Motor vehicle crash deaths across Arizona rose in 2011
Motor vehicle crash deaths across Arizona rose in 2011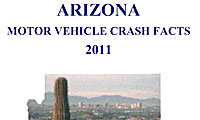 A new annual report shows that the number of fatalities on Arizona's highways and local roads increased during 2011…
According to ADOT's most recent "Crash Facts" report, 825 people lost their lives in motor vehicle crashes in the state last year – an 8.7 percent increase from last year's figure.
That's certainly not good news, but if there's something we as drivers can take from those numbers, it should be a better awareness of just how serious it is to be a safe motorist.
"Last year's figure is a sober reminder for all of us to concentrate on safe driving," said ADOT Director John Halikowski. "That means buckling up, maintaining safe speeds, never driving while impaired and, in today's world, avoiding distracted driving."
You can read the entire report online, but here are a few stats:
Fatal Crashes: 825 people were killed in a total of 754 fatal crashes on highways and local streets across Arizona in 2011 (compared to 759 people killed in fatal crashes in 2010).
Restraint Usage: More than a third of the people killed (292) were not properly restrained. 
Alcohol-Related Fatal Crashes: 236 alcohol-related fatal crashes in 2011 (alcohol-related crashes accounted for 31.30 percent of all fatal crashes.
Alcohol-Related Fatalities: Increased 3.92 percent (265 deaths compared to 255 in 2010). 
Rural-Area Fatalities: Increased 14.44 percent (436 deaths compared to 381 in 2010). Rural fatalities had dropped 20 percent in 2010. 
Urban-Area Fatalities: Increased 2.91 percent (389 deaths compared to 378 in 2010) 
Single-Vehicle Crashes: Accounted for 40.45 percent of all fatal crashes and 18 percent of all crashes. 
Most-Common Driver Violation: Speed too fast for conditions. 
Total Crashes: Decreased 3.16 percent (103,423 crashes compared to 106,795 in 2010) 
While it is way too early to know if the increased number of traffic fatalities represents any sort of a trend, it's still disheartening to read this report from the National Highway Traffic Safety Administration.
It states that a statistical projection of traffic fatalities for the first quarter of 2012 shows an estimated 7,630 people died in vehicle crashes nationwide. The NHTSA says this is a 13.5 percent increase from the projected fatalities in the first quarter of 2011 (6,720).
However, it is worth mentioning this caveat from the report…
"The historic downward trend in traffic fatalities in the past several years – a pattern which has continued through the early estimates for 2011 released recently that show deaths at a 60-year low – means any comparison will be to an unprecedented low baseline figure."
These projections from NHTSA, along with the Arizona Crash Facts report, just serve as another reminder that we need to keep safe on the road.
For more information, check out the whole Arizona report on our website.