Move Over AZ: Media helps spread safety message
Move Over AZ: Media helps spread safety message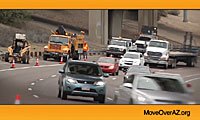 Many drivers got our message yesterday to Move Over, thanks, in part, to the local media…
Several news crews were out early Monday morning at an event hosted by ADOT and partnering agencies. Reporters joined us at Phoenix International Roadway so they could experience firsthand what it's like to be stuck on the side of the road.
Don't worry – it was all happening in a very controlled environment. Reporters stood behind a barrier as a vehicle flew by on the track at highway speeds.
The demonstration clearly showed how being on the side of the road – whether you're a stranded motorist, law-enforcement officer or tow-truck driver – is a nerve-racking experience.
It also illustrated why it's so important to Move Over if you can, or if you can't safely move over a lane, at least slow down when passing a vehicle that's on the side of the road.
We'd like to thank the news media for helping to spread this message! In case you missed any of the reports, you can find many of them online: