MVD is getting customers out of the line and safely on the road
MVD is getting customers out of the line and safely on the road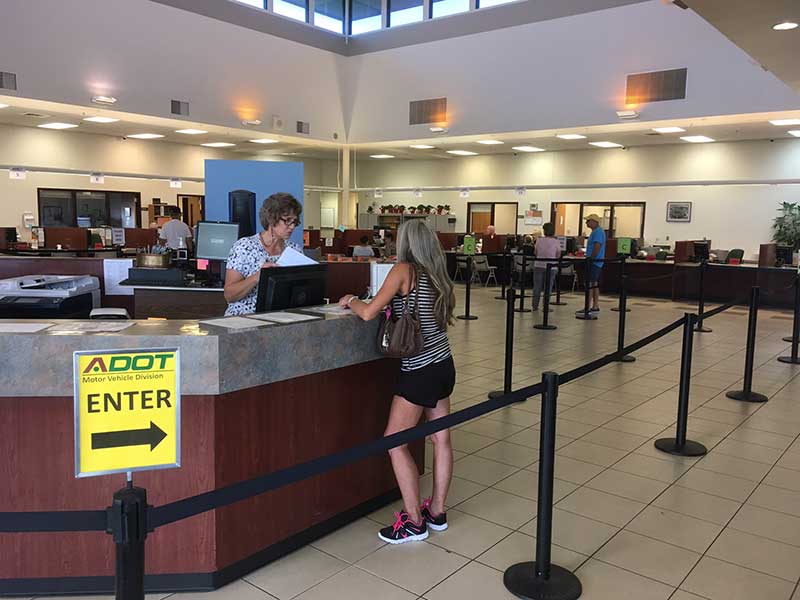 By Jennifer Bowser Richards / ADOT Motor Vehicle Division
ADOT's Motor Vehicle Division has made incredible improvements across the board, earning shout-outs from Governor Doug Ducey, a visit from the Singapore Institute of Technology and plenty of awards.
Like all of ADOT, MVD is constantly evaluating its services to better serve customers. Here are some highlights:
Door-to-door customer time averages a mere 24 minutes in urban offices.
Urban offices now open at 7:30 a.m.
ServiceArizona kiosk usage has increased to around 50,000 monthly transactions.
Road tests may now be scheduled online.
Paperwork has been reduced:

Getting a Motor Vehicle Record no longer requires an application.
Customers in need of a new or replacement ID or driver license now use a simpler application.
Between September 2016 and July 2017, MVD's call centers have decreased total wait times from an average of 28 minutes to 11 minutes and decreased customer service response times from 24-48 hours to seven hours.
A number of changes have been made to ServiceArizona.com:
Road test appointment scheduler: Customers now schedule an appointment to take a road test.
Kiosks: 26 new cash kiosks were brought online and kiosks can now print Off-Highway Vehicle decals.
Non-use affidavit: The paper process to certify a vehicle isn't in use has been made electronic.
Insurance Update and Reinstatement: This allows customers to verify an insurance policy on file, reinstate following a lapse and supply vehicle insurance information.
A great deal has been accomplished over the past year, and there are many exciting developments on the horizon.
MVD is committed to getting customers "out of the line and safely on the road."