MVD heads to the airport to promote Travel ID
MVD heads to the airport to promote Travel ID
By Doug Nick / ADOT Communications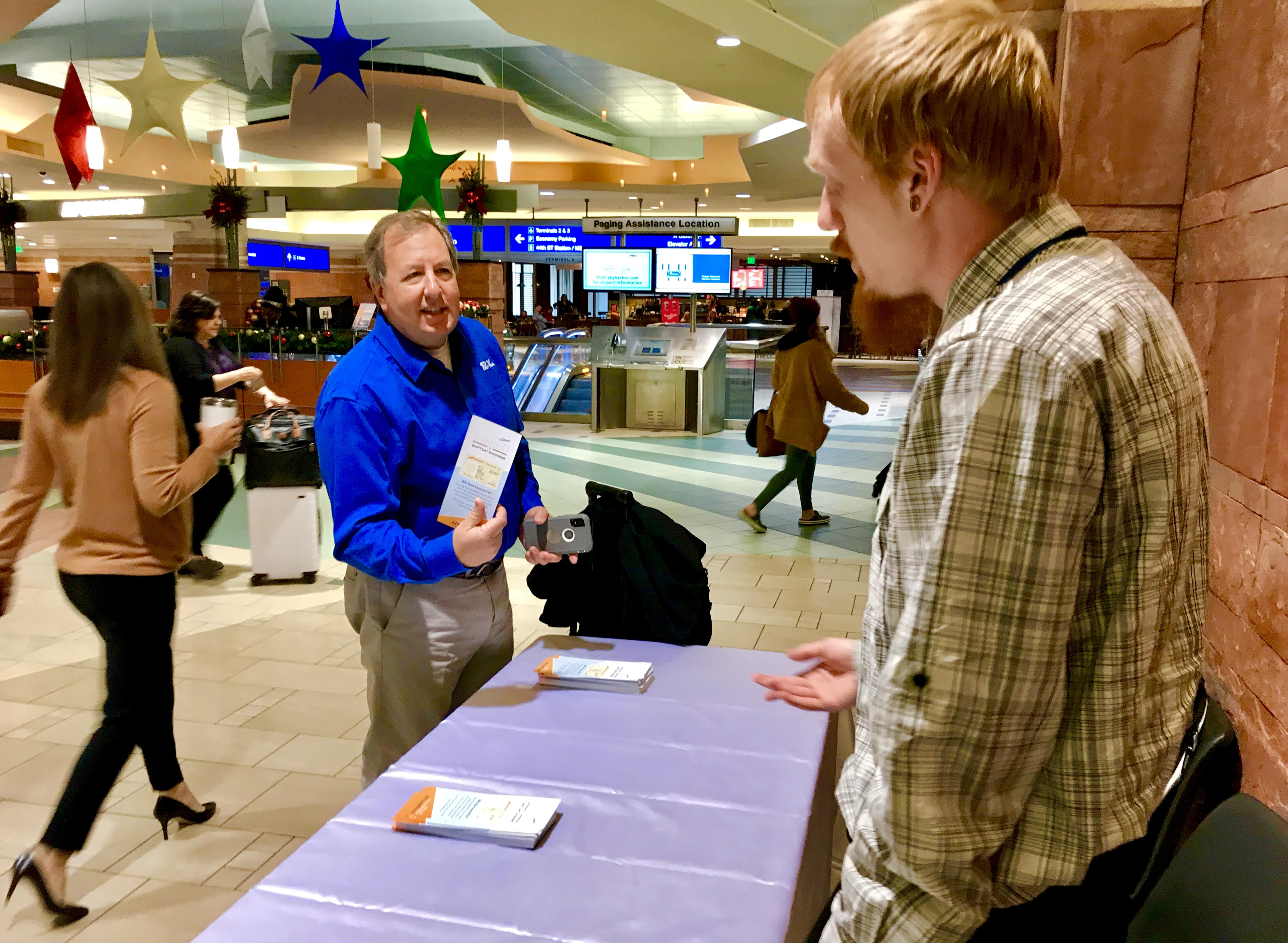 You probably have a neighbor who's put up Christmas or other holiday decorations on their house well ahead of Thanksgiving. Heck, maybe you're that neighbor.
Well, we're not ones to judge. In fact, we may or may not have a bowl of eggnog (non-alcoholic, of course…) in the break room here at the ol' ADOT ranch.
The point is (and we really do have one) is that the holiday travel season is upon us. To celebrate as only the ADOT Motor Vehicle Division can, we have placed some of Santa's helpers cleverly disguised as people wearing normal business casual attire at Phoenix Sky Harbor Airport Terminal 4.
As we said in an earlier news release, these folks are there during peak travel hours to help air travelers learn more about the AZ Travel ID. They answer some basic questions and can even give you a handy-dandy flyer with all sorts of helpful information.
What, you say, is the AZ Travel ID?
The AZ Travel ID meets the ID requirements that the federal government is imposing as of October 1, 2020 at all U.S. passenger airport security checkpoints.  As of that date, the federal TSA says anyone without the proper ID will not get through security, and obviously risks missing their flight.
Will your license fly? You can easily check your license and if you don't have a gold star in the upper right hand corner, it's NOT an AZ Travel ID.  Of course, you probably know that already because to get one, you need to visit any MVD office or select Authorized Third Party providers.
When you do that, you need to bring in several types of documents proving your ID, your Social Security number and Arizona residency. You can find a list of what you need at this website: aztravelid.com and then make an appointment at an MVD office through servicearizona.com. You can also walk right in, or visit Authorized Third Party offices that provide license services.
Now, we just told you pretty much what the good guys at Sky Harbor will tell you if you happen to see them. But if you do happen to pass by them, say "Hi" and grab a flyer so you can share it with a friend and ask, "Will your license fly?"