MVD provides services, assists veterans at 2013 Arizona StandDown
MVD provides services, assists veterans at 2013 Arizona StandDown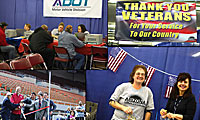 The 2013 Arizona StandDown began with the ceremonial cutting of red tape – a fitting kickoff to the annual outreach event aimed at connecting homeless and at-risk veterans with needed resources.
Held March 8-10 at the Veteran's Memorial Coliseum in Phoenix, this year's StandDown included more than 92 housing, healthcare and support service providers.
All were on hand to cut through that red tape and assist the state's homeless veteran population.
As in years past, MVD was there to help the veterans obtain driver licenses or state identification cards – vital when job searching or applying for programs.
"Having that credential really gives you an identity," said MVD Director Stacey Stanton. "Hopefully that credential will give them access to other services they need."
MVD Regional Manager Dave Jackson agrees…
A veteran himself, Jackson serves on the Arizona StandDown executive committee and says getting an identification card or license is often the first step to a better path.
"It's one of the major things they need to have in order to get jobs, services, anything," he said.
Just like last year, dozens of MVD employees were on site. They brought along 12 complete work stations, which were set up like an MVD office. Veterans could conduct transactions for driver license applications, renewals, written examinations and the road skills test (Courtesy Chevrolet provided vehicles to be used for those who did not have one of their own).
Besides the typical MVD services, the veterans were also treated to homemade sandwiches, cupcakes and other edible treats – all courtesy of MVD employees.
Jackson explained that being at the StandDown and providing a service means so much to the MVD employees.
"It's just a big deal for all of us," he said.
For more on the Arizona StandDown, visit Maricopa County StandDown.