MVD teams up with Valley of the Sun United Way to help the homeless
MVD teams up with Valley of the Sun United Way to help the homeless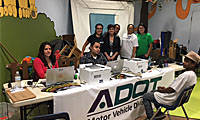 By Doug Nick / ADOT Communications
You'd probably never guess that ADOT's Motor Vehicle Division helps the homeless get badly needed services. But it's part of what we do to help all of our customers.
It's very difficult for many homeless to get to an MVD office, so recently the MVD brought the office to them.
MVD employees spent the day at the downtown Phoenix Human Services campus working with the good folks at Valley of the Sun United Way on "Project Connect," a program that helps the homeless access services – in this case, valid Arizona state ID cards.
These cards are important. Without valid ID, people can't get things like AHCCCS health coverage, mental health assessments or Social Security benefits, apply for food stamps or housing programs and receive many other vital services. Project Connect fixes that problem.
MVD's mission is to get Arizonans out of line and safely on the road. And by assisting with Project Connect, it's helping homeless individuals find the road to recovery and a place of their own.