National Work Zone Awareness Week begins today
National Work Zone Awareness Week begins today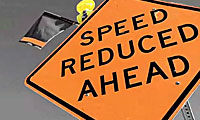 Building and maintaining the state's highway system means that ADOT crews frequently need to work pretty close to traffic to get the job done...
That proximity can lead to some big safety risks when motorists choose to drive dangerously, which is why we're asking drivers to slow down, pay attention and expect the unexpected in the work zone.
Work Zone Awareness
Today marks the start of National Work Zone Awareness Week, an ideal time to review and address any bad driving habits. Driving with caution through a work zone will not only help to protect road crews, but it will also help to ensure your safety.
Did you know that most victims in work-zone crashes are likely to be drivers or their passengers?
Slowing down, obeying signs and warning devices, and preparing for lane restrictions really go a long way to keep everyone safe.
So, here's what you can do to stay safer in the work zone:
Expect the unexpected. Normal speed limits may be reduced, traffic lanes may be restricted and people may be working on or near the road.
Slow down! Speeding is one of the major causes of work-zone crashes.
Keep a safe distance. The most common type of accident in a work zone is a rear-end collision. Maintain two car lengths between you and the car in front of you as well as road crews and their equipment.
Pay attention. The warning signs are there to help you move safely through the work zone. Observe the posted signs.
Obey road crew flaggers. The flagger knows what is best for moving traffic safely in the work zone. A flagger has the same authority as a regulatory sign. You can be cited for disobeying a flagger's directions.
Stay alert and minimize distractions. Dedicate your full attention to the roadway and avoid changing radio stations or using cell phones while driving in a work zone.
Keep up with traffic flow. Motorists can help maintain traffic flow and posted speeds by merging as soon as possible. Do not drive right up to the lane closure and then try to barge in.
Check road conditions before you travel. Schedule enough time to drive safely and check for traffic information by calling 511 or by logging on to az511.gov.
Be patient and stay calm. Remember, crews are working to improve the road and your commute.
Visit azdot.gov/WorkZone for more information.