New bicycle/pedestrian bridge is open in Chandler
New bicycle/pedestrian bridge is open in Chandler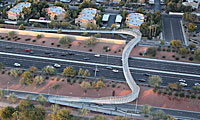 Sometimes, living in this mostly-desert state really pays off.
Take right now for example. As the country's eastern region braces for another icy winter storm, the weather here in Arizona is just perfect for spending some time outdoors…
In case anyone on the other side of the U.S. is reading this right now, we aren't trying to brag (and we hope you're keeping warm). We only bring up the weather because we wanted to point some attention to a brand new bicycle and pedestrian bridge that recently opened – now really is a great time to give it a try.
The bridge spans over the Loop 101 on Galveston Street (between Ray Road and Chandler Boulevard) and was built in partnership with the city of Chandler. We told you all about the construction last summer, but thought you'd like to see the finished product.
More about this project
The idea for this project actually originated back in 1999 during the update of Chandler's Bicycle Plan. The project was eventually added to the city's Capital Improvement Program in 2005, following approval by a seven-member Citizen Transportation Commission and the City Council.
The partnership between the city of Chandler and ADOT is spelled out in an intergovernmental agreement, but basically it means that ADOT will handle construction of the bridge, along with any structural repairs and Chandler will be responsible for on-going maintenance. The bridge's construction cost will be paid for with Congestion Mitigation and Air Quality grant funds.
A few fun facts
These may seem familiar if you read our last post about this project, but we thought these were worth repeating…
The bridge's total length is 1,145 linear feet, which includes the span over the freeway, the spans over the northbound and southbound frontage roads, and the ramps.
The bridge is 10 feet wide.
210,000 pounds of structural steel was used to build the bridge.
364,000 pounds of reinforcing steel was used (for placement in the concrete) during construction.
1,000 cubic yards of structural concrete was required for construction of the bridge.
LED (Light Emitting Diode) lighting is being used to light the bridge.
A piece of the bridge (the center pier) was actually constructed more than four years ago when ADOT built an HOV lane on the Loop 101 freeway. Including the pier in the 2009 HOV lane project saved time, money and the need for additional closures in 2013.