New campaign targets selfish driving
New campaign targets selfish driving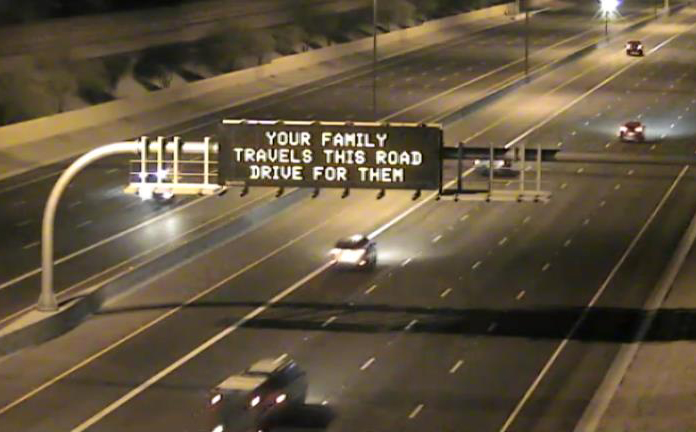 By Caroline Carpenter / ADOT Communications
If you could prevent the death of a loved one, would you? Traffic fatalities on Arizona roads are on the rise, and selfish drivers are often the cause.
ADOT's new Drive For Them campaign aims to reduce traffic fatalities by reminding drivers that poor decisions can have tragic consequences for those they share the road with, including their families, friends and neighbors.
Arizona is on pace to top 900 traffic deaths by year's end. The majority of these deaths could be prevented if drivers didn't engage in selfish behaviors like driving impaired, driving aggressively, driving distracted, speeding or not wearing a seat belt. If drivers aren't willing to drive in a safe manner for themselves, maybe they'll alter their behavior for those they love.
Preliminary data shows from Jan. 1 to Sept. 30, 690 people have been killed in crashes on Arizona highways, county roads and city streets.
The next time you get behind the wheel, we hope you'll drive in a manner that keeps your family and yourself safe. ADOT has a comprehensive list of traffic safety resources to help.