New highways help make connections
New highways help make connections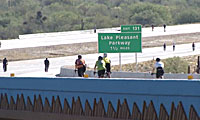 When a new section of highway opens, we here at ADOT celebrate right alongside the local communities, citizens, contractors and stakeholders who all played a part in getting the road built.
We could just quietly open the roadway and know a few thousand people will happen to notice since they live nearby – instead, we choose to celebrate the achievement! That's because a brand new section of highway is a fresh connection, certain to have an impact on many more people and businesses throughout the state.
Sure, the drivers who are closest to the new road likely will notice an immediate improvement to their commute – don't get us wrong, that's a great benefit – but the advantages don't stop there…
On May 7, many Valley residents turned out for the open house/dedication event celebrating the new, 14-mile stretch of Loop 303 in the West Valley (see video above and photo slideshow after the jump). Already, employment centers are opening or are planned in Peoria, Surprise and Glendale. The new 303 corridor presents additional opportunities for business and economic development.
Just think about it – a new, quicker link means businesses can move their products to stores easier. Customers can get to services faster and without the stress of traffic tie-ups.
Not only that, but businesses look at demographics to focus their marketing and hiring needs. They look for people who are interested in buying or securing their services – that could ultimately result in business development, more jobs and a healthier local economy. Those businesses may be miles away from the new highway, but the domino effect is evident because now residents in the area have access!
The economic possibilities absolutely are worth celebrating, but it's equally important to note the impact a new highway has on us as individuals.
We wrote about it back in our very first blog post … transportation is personal. And, a new, more direct route can make it easier for families and friends to see each other more often and do things together with out the anxiety and frustration of fighting traffic.
So, the next time a new roadway is set to open, come on out and celebrate with us! You'll be sure to see the connections that are on the way to your family, community and Arizona!