New I-10 ramps in Goodyear open this week
New I-10 ramps in Goodyear open this week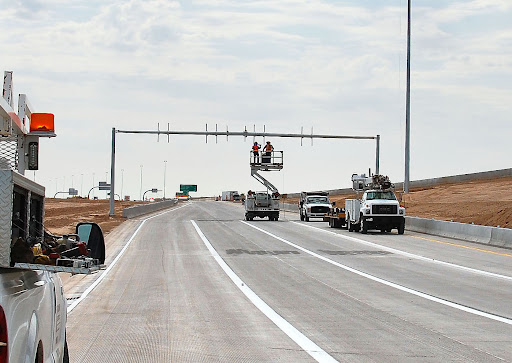 As ADOT prepares to open a new eastbound on-ramp and westbound off-ramp at Sarival Avenue and I-10, crews have been busy adding the finishing touches…
Painting, striping and sign installation were among the final tasks completed this week, but even though the ramps are expected to open today, the work is nowhere near over. That's because these ramps are just part of a larger, ongoing ADOT project that will build a freeway-to-freeway interchange between I-10 and Loop 303 (we blogged about the project earlier this year).
Two additional I-10 ramps are scheduled to open at Citrus Road by late August, which will set the stage for the permanent closing of the I-10 on- and off-ramps at Cotton Lane and allow crews to continue to work on the I-10/Loop 303 interchange.
More about this project:
By early September, Cotton Lane will be closed between Van Buren Street on the south and McDowell Road on the north. Drivers will be able to use Sarival Avenue or Citrus Road as primary north-south routes in the area. Local access will be maintained along Cotton Lane between Van Buren and Garfield streets. 
By late September, ADOT plans to close the stretch of Loop 303 between McDowell and Thomas roads and detour traffic along a new section of Cotton Lane west of the freeway construction work zone. Traffic signals will be installed at McDowell Road and the new Cotton Lane intersection.
When the $134 million Loop 303/I-10 interchange project in Goodyear is completed, I-10 access to Cotton Lane will be maintained via frontage roads stretching between Sarival Avenue and Citrus Road. ADOT is working on a series of ongoing projects that will modernize Loop 303 into a six-lane freeway between I-10 and Grand Avenue by late 2014.