New I-11 signs mark congressionally designated corridor
New I-11 signs mark congressionally designated corridor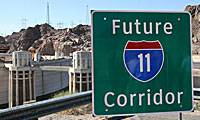 When a new highway sign is installed, the act normally isn't too noteworthy.
But on Friday March 21, some new signs got a lot of attention because of what they represent…
The new signs mark the future I-11 corridor between Phoenix and Las Vegas. They were installed by ADOT along US 93, a likely route for the proposed interstate. Four of the "Future I-11 Corridor" signs have been installed leading to the Hoover Dam Bypass Bridge, which was constructed in 2010 to interstate-highway standards.
"I-11 will serve a vital role in commerce and trade, not only for Arizona and Nevada but for the country and neighboring nations. Equally important, it will connect the two biggest cities in the United States without an interstate between them: Phoenix and Las Vegas," Arizona Governor Jan Brewer said at the March 21 event unveiling the new signs. "I-11 will be the first direct trade route from western Mexico to Canada through our two great states. We know transportation is a primary driver of commerce and tourism – and we should continually seek to enhance our economic competiveness. By facilitating the movement of goods and people through a direct Mexico-to-Canada interstate, I-11 will pay dividends in fostering this crucial mission and boosting important international partnerships."
The 2012 federal transportation bill designated the I-11 corridor between Phoenix and Las Vegas. Efforts are ongoing to secure the same recognition – and perhaps some preliminary funding – for segments stretching south to Mexico and north toward Canada.
"Ultimately, I-11 will be more than a route connecting communities. It will be a transportation corridor linking economies to generate prosperity for the region," said ADOT Director John Halikowski. "In Arizona, we are focusing on our state's Key Commerce Corridors. Interstate 11 is part of the mix. The longest concrete arch bridge in the Western Hemisphere, named in memory of Mike O'Callaghan and Pat Tillman, is ready and waiting to be the backbone of the I-11 Corridor."
The I-11 and Intermountain West Corridor Study
The Arizona and Nevada transportation departments have been working since 2012 on the Interstate 11 and Intermountain West Corridor Study, which includes detailed corridor planning of an interstate link between the Phoenix and Las Vegas metropolitan areas, and an extension of the corridor that would run through southern Arizona to Mexico and north through Nevada toward Canada.
The Interstate 11 and Intermountain West Corridor Study is a two-year, multiphase, high-level study examining the feasibility, benefits, opportunities and constraints of a proposed new interstate highway corridor. This initial study is expected to be completed later this year. Funding to construct a potential corridor has not been identified. In addition to the Arizona and Nevada departments of transportation, the Maricopa Association of Governments, Regional Transportation Commission of Southern Nevada, Federal Highway Administration and Federal Railroad Administration are partners in the study.
For more information about the I-11 and Intermountain West Corridor Study, visit i11study.com or check out our previous blog posts.