New pedestrian bridge across I-19 offers easier access
New pedestrian bridge across I-19 offers easier access
By Lori Baker / ADOT Communications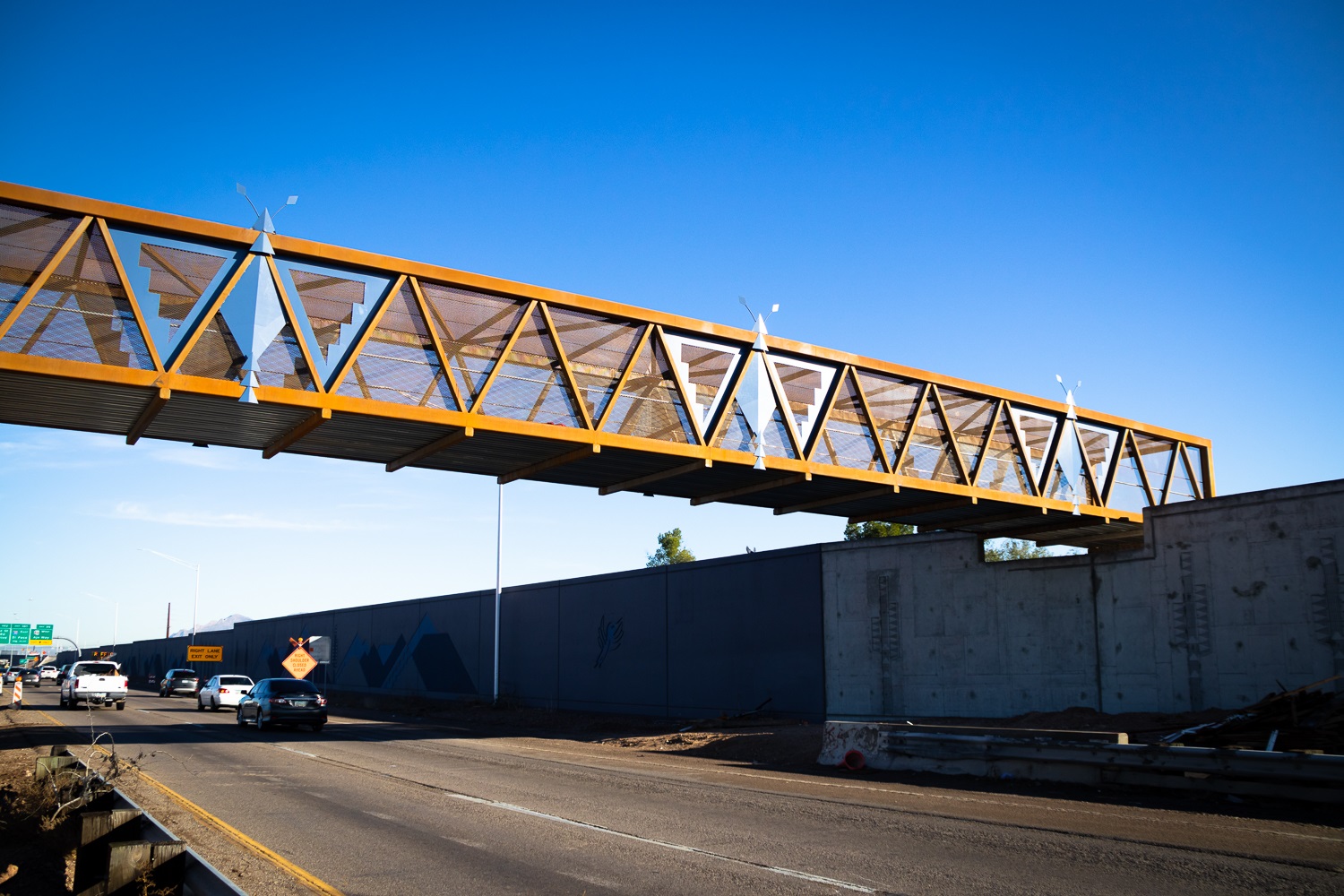 Drivers in Tucson will notice many changes and upgrades to Interstate 19 between Ajo Way and Irvington Road. But something they can't see from behind the wheel is a big step-up for those living near the freeway.
The newly constructed Michigan Street Pedestrian Bridge over I-19 features new ramps that comply with the Americans with Disabilities Act. The bridge was installed in mid-January to connect city neighborhoods on either side of the freeway. It replaced the old pedestrian bridge, which was not ADA compliant because it had stairs and no ramps.
"The new bridge is well lit, has ramps that comply with the Americans With Disabilities Act, and it is more aesthetically pleasing due to its artwork and more modern design," said Senior Resident Engineer Chris Page.
You can see for yourself that "aesthestically pleasing" part in the slideshow to the right from our Flickr page.
The pedestrian bridge is part of the $84 million I-19/Ajo Way traffic interchange project, which is in the second of two construction phases.
Other work includes
constructing a braided ramp alignment — first of its kind in southern Arizona — connecting Ajo Way with I-19 separately from the I-19 traffic exiting at Irvington Road.   
reconstructing and widening southbound I-19 within the project area.
widening northbound I-19 to add an auxiliary lane between Irvington Road and Ajo Way.
completing I-19 noise walls south of Michigan Avenue and along the south side of Ajo Way between Kostka Avenue and I-19.
completing drainage improvements and improving drainage collection features.
replacing the Michigan Avenue pedestrian bridge.
replacing the Santa Cruz River Bridge on Ajo Way.
constructing bank protection and the new Rodeo Wash outlet into the Santa Cruz River.
reconstructing and widening Ajo Way from Holiday Isle to I-19.
The first phase included a new traffic interchange at Ajo Way and I-19, major drainage improvements, sound walls, utility relocation and an upgraded traffic light at 16th Avenue.