New ramps linking SR 143 and Sky Harbor Blvd set to open Monday
New ramps linking SR 143 and Sky Harbor Blvd set to open Monday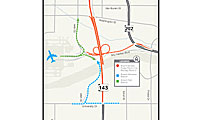 Drivers headed to and from Phoenix Sky Harbor Airport are sure to notice a couple of big improvements beginning Monday morning…
That's when two new freeway ramps linking SR 143 with Sky Harbor Boulevard are set to open, providing drivers with better roadway connections at the east end of the airport.
But these ramps are just part of a $17.8 million project designed to modernize the interchange connecting SR 143 and Sky Harbor Boulevard. The entire project is scheduled for completion by late summer (we blogged about it last July and gave a progress update at the end of 2011).
Here are a few advantages the new ramps offer
For the first time, drivers departing the east end of Sky Harbor Airport will be able to travel directly onto southbound SR 143 via one of the new ramps.
Westbound Loop 202 drivers using the SR 143/Sky Harbor Blvd. exit will have a new elevated ramp to reach southbound SR 143. Many drivers use that route to travel between Loop 202 and Interstate 10.
The elevated ramp will replace an older circular ramp being removed to make way for a third new ramp connecting southbound SR 143 to westbound Sky Harbor Boulevard this summer.
What to expect this weekend
Before the new ramps open, crews will work this weekend to adjust pavement markings, including lane stripes, and make other improvements. Drivers should be aware of the following restrictions:
Southbound SR 143 closed between McDowell Road and University Drive from 9 p.m. Friday to 5 a.m. Monday (March 5). Westbound Sky Harbor Boulevard also closed between Loop 202 and 44th Street, including the westbound ramp to southbound SR 143. The westbound I-10 ramp to northbound SR 143 also closed over the weekend.
Northbound SR 143 closed between Sky Harbor Boulevard and Washington Street from 9 p.m. Friday to 9 p.m. Saturday (March 3).
Eastbound Sky Harbor Boulevard closed between 44th Street and SR 143 from 9 p.m. Saturday to 5 a.m. Monday (March 5).
Drivers are encouraged to use the west side entrance or exit near 24th Street at Sky Harbor Boulevard this weekend or use 44th Street as an alternate route on the airport's east end.
Take note: The existing northbound SR 143 ramp to westbound Sky Harbor Boulevard will be closed for about three months starting 9 p.m. March 2 for reconstruction work. Drivers can exit northbound SR 143 to westbound University Drive and use northbound 44th Street to access the airport.