New specialty license plates now available
New specialty license plates now available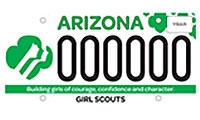 Supporting your favorite cause has never looked so good…
Three new specialty license plates now available from MVD.
The new plates include a Girls Youth Organization plate to support the Girl Scouts; an Arizona Motorsports Commemorative plate for Phoenix International Raceway; and a redesigned Phoenix Suns plate. Like many of Arizona's specialty plates, these three support specific charities.
Funds raised by the Girl Scouts plate will provide enriching experiences in Arizona's Girl Scouts program, such as extraordinary field trips, sports skill-building clinics, community service projects and cultural exchanges.
The money from The Phoenix International Raceway license plate will go to Motorsports Charities to provide resources and charitable support for children through education, medical treatment, dream experiences and volunteerism.
The redesigned Phoenix Suns plate will continue to support Phoenix Suns Charities for youth education and development, college scholarship programs and community development.
More of the details
The license plates have an annual fee of $25 for a non-personalized plate and $50 for a personalized plate, with $17 going to support the charities. Vehicle owners can purchase the new plates at any MVD or Authorized Third Party office location or online at ServiceArizona.com.
Because the Phoenix Suns license plate is a new design, anyone with the current plate design can request the new plate design for a $5 replacement fee. However, the redesigned plate has six characters instead of the seven that are on the current Suns plate. So those with a personalized Suns plate with seven characters would not be able to transfer their personalization to the new design. They can reapply for the new design, but would have to start the application process from the beginning. The older, original Phoenix Suns license plate design is still valid for use.
There are no special requirements to get the license plates. The plates are also available with a disability symbol.
Specialty plates
Even though ADOT's Motor Vehicle Division issues license plates, ADOT and MVD do NOT choose which plates get approved. That decision is actually a function of the legislative process.
So, if you're part of a nonprofit group looking to get a plate for your cause, you'll need to get the attention of your state lawmakers. A bill sponsored through the legislature must pass and then be signed into law by the governor before any specialty plate can be manufactured.
Once that step is cleared, the group pays an implementation fee to cover all programming costs and production.
The group then works on the plate design alongside ADOT/MVD. Guidelines for the design ensure that plates are readable from 100 yards and aren't too busy. Once a final design is agreed on, prototype plates are created for review. Law enforcement officials, representatives of the nonprofit group and MVD's director must sign off on the plate before production begins.
For more information on the new specialty plates, please visit azdot.gov/mvd. You can also check out our previous license plate posts, including this one that explains how plates are made and this one that goes into even more detail on the specialty plate approval process.