Newly completed US 89 bypass fully open with no restrictions
Newly completed US 89 bypass fully open with no restrictions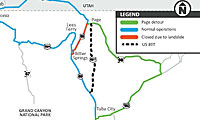 You'll probably recall that US 89T opened with limited access back on Aug. 29...
Since then, many of you have been asking about the route, wondering when the speed and nighttime driving restrictions would be lifted.
Well, today is the day we can answer that ADOT has completed the fencing along the corridor to help prevent livestock from crossing the roadway. That means the route is now fully open with NO restrictions! Of course, there is a speed limit – 55 mph is the maximum for the corridor and on some stretches the limit is lower due to terrain.
Drivers still need to stay alert
Even though fencing now is complete (crews also have recently finished final lane striping and installed recessed pavement markings), ADOT urges motorists to slow down, pay attention to their surroundings and be aware that this roadway on the Navajo Nation is prone to animal crossings, including horses, goats, cows and dogs.
More about US 89T
The 44-mile-long US 89T route runs parallel to US 89 from The Gap to LeChee and is accessible from US 89, approximately 17 miles north of the US 160 junction (Tuba City exit). Previously a Navajo Nation roadway, US 89T will be maintained by ADOT while it is in use as a detour.
The US 89T project became necessary after a Feb. 20 landslide closed a section of US 89 between Bitter Springs and Page. Prior to paving US 89T, drivers headed to and from Page were forced to take a 115-mile-long alternate route along US 160 and State Route 98.
The US 89T project was eligible for reimbursement through the Federal Highway Administration's emergency relief program, which provides funding to state and local agencies for the repair or reconstruction of highways, roads and bridges that are damaged in natural disasters and catastrophic failures.
US 89T is not part of the ultimate solution to repair US 89, which suffered a landslide that buckled pavement along the mountain slope in the Echo Cliffs area. After an extensive geotechnical investigation of the US 89 landslide, ADOT's proposed solution is to move the travel lanes away from the active landslide and construct a rock structure to stabilize the area.
The projected $40 million repair is already on the fast track. Design on the repair began in late August and ADOT is meeting with potential contractors this fall. ADOT's goal is to start construction by mid-2014, if extensive environmental and right-of-way clearances are finalized.
After the reconstruction of US 89 is complete, US 89T will be returned to the Bureau of Indian Affairs and will be referred to again as Navajo Route 20, with maintenance handled by the Navajo Division of Transportation.