Newly paved US 89T set to open with restrictions
Newly paved US 89T set to open with restrictions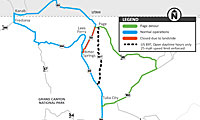 It was just about three months ago that construction got started on Temporary US 89 (aka US 89T) and from the onset, crews really have had their work cut out for them.
Back in June, it was estimated that about 300,000 cubic yards of dirt would need to be moved on the project even before the gravel and asphalt could be placed. Then there was the paving – 27 miles worth to be exact.
But grading and paving are only part of the project. Prior to opening any new state highway, proper signage, striping, right-of-way fencing and other safety measures are necessary to ensure a safe roadway. US 89T also requires cattle guards, swing gates and centerline rumble strips.
So, back to that fencing…
Crews are still actively working to complete some remaining construction items on US 89T, including fencing.
US 89T is located on a rural, open range area on the Navajo Nation, which has a large amount of livestock. Fencing is a critical part of this project because it is designed to prevent livestock from crossing onto the highway, which is a major safety concern (see the photos above for just a glimpse of what we're talking about).
What all of this mean for drivers
ADOT is set to open the newly paved US 89T tomorrow, Aug. 29, albeit with some restrictions.
Until construction and fencing is completed, the roadway will be open only during daylight hours (except for local residents) and there will be a 25 mph speed limit.
ADOT reminds drivers that while the US 89T has been improved, motorists need to slow down and pay attention to their surroundings. Drivers should be aware that this roadway is prone to animal crossings.
To help reduce delays, detour signage will remain on the previously established primary detour route (US 160 to State Route 98) until US 89T is completed. This established detour may be a quicker route while construction continues on US 89T because of the 25 mph speed limit.
When construction is finished, the speed limit will be raised and nighttime restrictions will be lifted.