Numbers tell only part of MVD's continuous-improvement story
Numbers tell only part of MVD's continuous-improvement story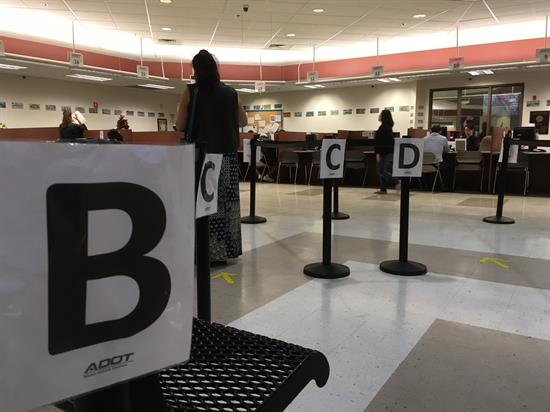 By Doug Nick / ADOT Communications
Numbers are useful and may tell a story, but they can only do so much.
At the end of a ballgame, the numbers will tell you who won. But they can't convey the thrill of seeing a last-minute touchdown drive, a grand-slam home run, a buzzer-beater to win the championship.
At the Motor Vehicle Division, numbers tell us a lot of things. One of the most important things is how busy our offices are.
We want to get you out of line and safely on the road, so we like it when those numbers go down just like they have been for a while.
In the last half of 2016, MVD office wait times in metro Phoenix and Tucson decreased an average of 20 minutes. But the numbers don't tell the whole story. To get that, we need you.
MVD hears from people all the time. And one of the best things we hear is that going to the MVD today is a lot quicker and easier than it was not so long ago.
So what have we been doing?
You may have heard of the Arizona Management System, and it's a big reason why things keep getting better. Governor Doug Ducey has championed this idea, which empowers every one of our employees to come up with improvements. It could be something as small as moving a copy machine, to opening MVD offices half an hour early in Tucson.
That Tucson idea? We've actually done that. It's meant people get in earlier, our employees can be scheduled more evenly throughout the day, wait times are way down and overtime costs have been cut more than 80 percent.
Not bad at all.
We also do things like use people (yes, actual people!) to help customers instead of relying on a computer voice to tell people when to come to a service window.
That means when you visit one of our offices, we can help make sure you have your paperwork ready to go so when you get to the service window your transaction goes smoother and you – not to mention your fellow customers – get out faster. We've also increased our capacity for scheduling road test appointments online (we're pretty sure the internet is here to stay) and more ideas are being looked at all the time.
We love that the average wait time at our busiest Phoenix and Tucson area offices is down 20 minutes, but the search for quality isn't so much about better numbers, but better service – for you.