Old lanes recycled to help build widened stretch of I-10 in Eloy
Old lanes recycled to help build widened stretch of I-10 in Eloy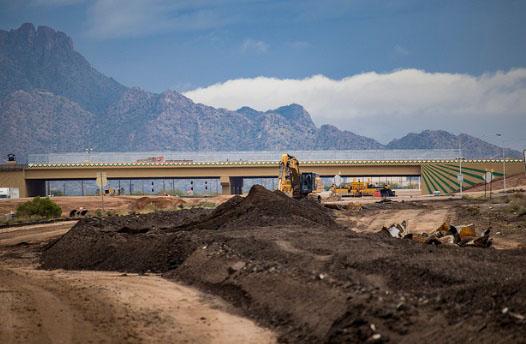 By Tom Herrmann / ADOT Communications
What do you do with an old freeway when you've just built a new one?
In Pinal County, where we're in the process of building new lanes of Interstate 10 near Eloy, the answer is an unexpected one: Recycle it.
Most of the time, freeway lanes are elevated slightly above the land on either side. That helps drain water when it rains, for example. Creating that elevation usually requires engineers to find additional dirt nearby, often from a borrow pit – nearby ground where removing the dirt won't cause any environmental or economic problems.
But taking tons of dirt from one place and hauling it to another, sometimes over considerable distances, can be costly.
Now that both westbound and eastbound traffic has moved to the new lanes there's no need for the old lanes. Arizona Department of Transportation engineers found a way to put the dirt, asphalt and concrete to a better use.
Almost as soon as westbound traffic started using the new lanes in December, we began removing the old lanes. By the time we're done, we will have moved 16 lane-miles of freeway – 1 million square feet of asphalt, 30,000 feet of guardrail and tons of earth – to form the foundation of the new eastbound lanes.
The savings are considerable. The new I-10 lanes are only about 100 yards east of the old lanes, reducing the time and cost of moving materials from a distance borrow pit. The old guardrails that are in good condition will be saved and used in repair projects around Arizona.
Among the many recycling programs around Arizona, not one includes old freeways as a recyclable item. Not to worry. By putting old I-10 to use in building new I-10 in Pinal County, we're doing our part.