Old US 60 bridge shows original way to cross Queen Creek
Old US 60 bridge shows original way to cross Queen Creek
By David Rookhuyzen / ADOT Communications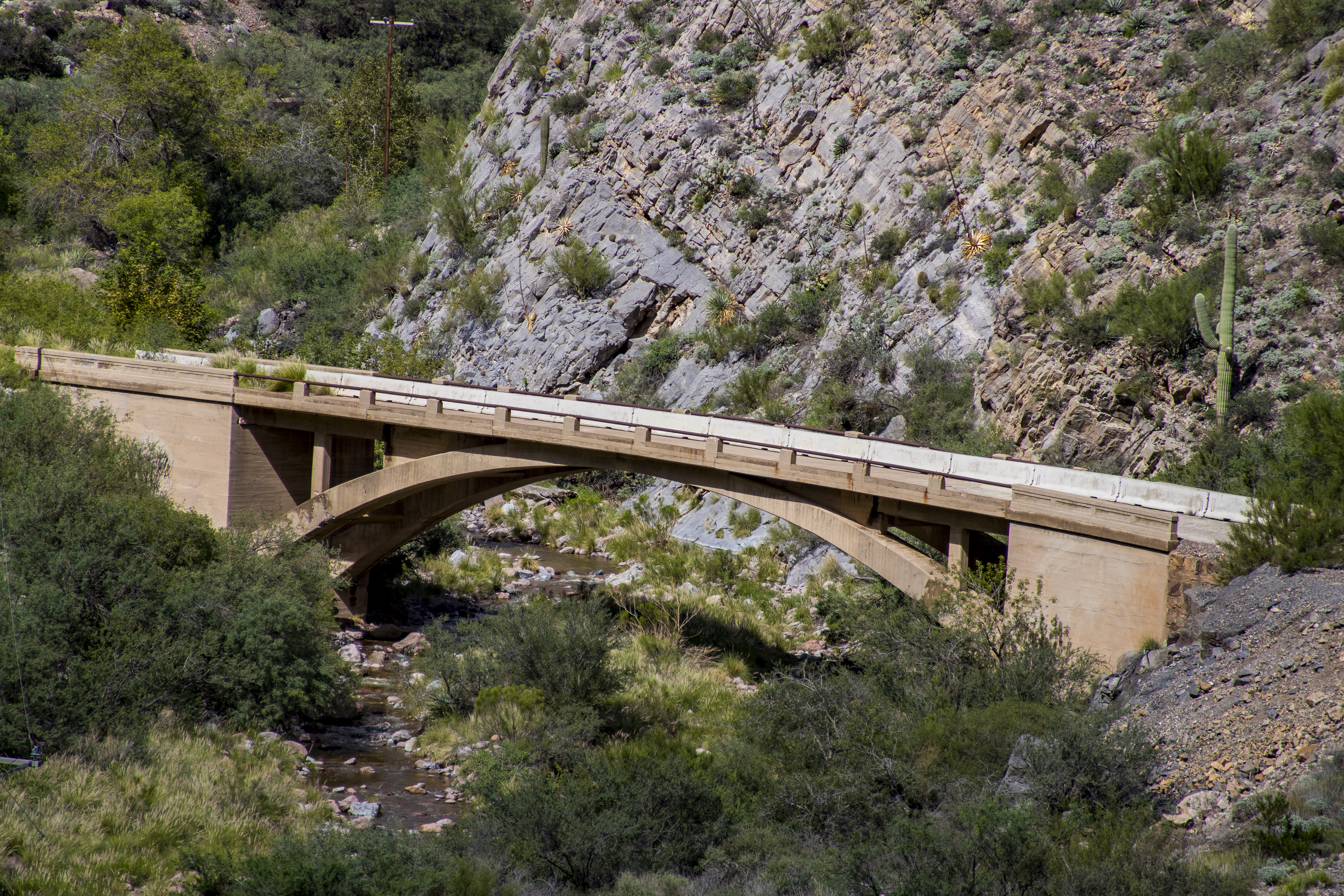 It's a question as old as transportation itself: How are we going to get across that?
Whether it be a river, creek, wash, arroyo, canyon or crevice, getting a vehicle from one side to the other is a prime concern when it comes to building roads. Today we have a plethora of options, machinery and materials at our disposal to build a crossing that will both be functional and stand the test of time. As we told you in an earlier blog, we can even build bridges seemingly in mid-air using some fancy engineering. 
That's why it's good to sometimes go back and look how they did it in the old days, when getting to the other side was just as important, but engineers didn't have access to the same resources.
Which brings us to the old US 60 bridge over Queen Creek, just east of Superior. In a blog post last year we explained the original road between Superior and Miami opened in 1922 and was a 21-mile winding mountain road that took motorists down to and over Queen Creek, Devils Canyon and Pinto Creek. This original road and the associated bridges were done under the auspices of Lamar Cobb, Arizona's first state engineer who also planned the state's initial highway system.
It was one of the most difficult road building tasks the young state had done up to that time and the subsequent road has been described as a "winding ladder." You can still see the old road in several spots on your way toward Top-of-the-World.
The original bridge over Queek Creek on the east side of Superior is what you see at the bottom of the photo to the right. It's at the floor of the same canyon where the modern Queen Creek bridge is now, which you can see in the background. Like the original bridges over Devil's Canyon and Pinto Creek, this old bridge is a site-specific, single-span reinforced concrete arch, with steel pipeway guardrails and paneled concrete bulkheads. Which is to say it definitely has none of the modern frills or architectural flourishes you see in some bridges today.
But it did the job it was designed to do. The bridge served motorists for nearly 30 years before a post-World War II population boom called for new, wider road alignments on major highways. In order to accomodate a wider road, US 60 had to be moved to a higher elevation. And that meant new bridges. Eventually the new graceful steel arch bridge over Pinto Creek (which ADOT is currently replacing) opened in 1950 with the new Queen Creek bridge opening in 1953.
So, if you are driving on US 60 heading east from Superior, go ahead and steal a glance of the original bridge, and maybe think about how lucky you are to be crossing its wider, flashier younger brother.