One Less Spark: How motorists can help prevent wildfires
One Less Spark: How motorists can help prevent wildfires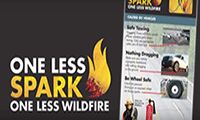 <By Doug Pacey / ADOT Communications
Memorial Day weekend is the unofficial launch of the summer road-trip season, and in Arizona that means a couple things. First, always travel with extra drinking water to ward off thirst in case of unexpected delays. Second, wildfire season has already arrived and motorists can take steps to prevent them from occurring.
Today, ADOT joined federal, state and local agencies at Sunset Point Rest Area at milepost 252 on Interstate 17 to promote the "One Less Spark, One Less Wildfire" fire prevention and awareness campaign.
Representatives from the U.S. Forest Service, Bureau of Land Management, Arizona State Fire and other agencies were there, along with fire trucks and water trucks, to talk to travelers about what they can do to prevent wildfires. Those tips include:
Do not park in tall grass as the heat from parts under your vehicle can start a fire.
Make sure nothing is hanging from underneath your vehicle and dragging on the asphalt.
Dragging chains from towing can cause sparks. Never substitute parts when towing.
Check tire pressure before you travel. Exposed wheel rims can cause sparks on the asphalt.
Check out the video above for more information on "One Less Spark, One Less Wildfire."