Oversized load requires brief closure of eastbound I-10 near Benson early Sunday
Oversized load requires brief closure of eastbound I-10 near Benson early Sunday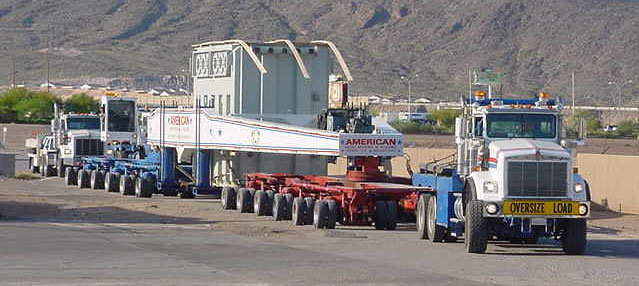 OK, so it's not as massive as the last one we told you about, but at 707,000 pounds, a 227-foot-long truck traveling through Arizona this weekend will require a short closure of eastbound I-10 near Benson early Sunday (Dec. 6).
The closure, expected to last up to 30 minutes, starts at 6 a.m. and is necessary so the truck can travel west on a one-mile section of eastbound I-10 between State Route 80 (exit 303) and State Route 90 (exit 302).
Wondering why a truck needs to go west on an eastbound freeway?
It's because this truck is so huge. Carrying a transformer from New Mexico to California, the truck and its 18 axels are way too big to navigate the westbound I-10 exit at SR 90 and too heavy to use the bridge on SR 82, which would otherwise provide an alternate route.
What drivers need to know
Arizona State Troopers will stop eastbound I-10 traffic at the SR 90 overpass as well as all SR 90 traffic at I-10. Troopers will escort the oversized load onto eastbound I-10 using the exit ramp at Exit 303 and off the interstate using the entrance ramp at Exit 302.
Westbound traffic will not be affected.
Motorists traveling in the area should also be aware of restrictions at both the eastbound and westbound I-10 bridges over the San Pedro River at milepost 306 in Benson. In addition, westbound traffic along I-10 will be narrowed to one lane due to an ongoing bridge replacement project at Davidson Canyon at milepost 285, approximately 20 miles east of Tucson.
As always, you can stay up to date with the latest highway conditions around the state by visiting the ADOT Traveler Information Center at az511.gov or by calling 511.
If you're interested in learning how ADOT ensures these enormous loads can safely travel a route without damaging infrastructure, be sure to check out our previous posts on the subject.