On Phoenix-area freeways, 2016 accomplishments and more improvements in 2017
On Phoenix-area freeways, 2016 accomplishments and more improvements in 2017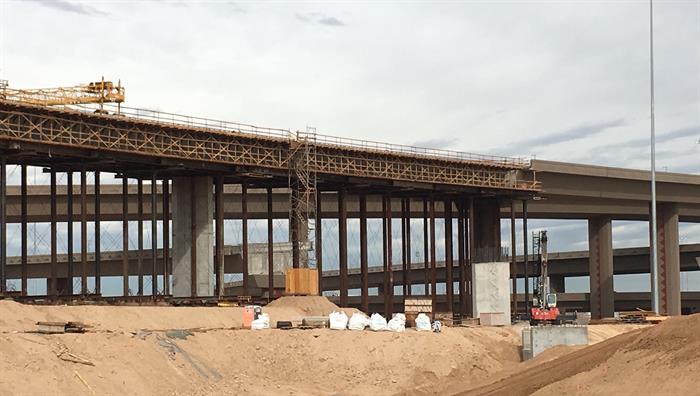 By Doug Nintzel / ADOT Communications
Before I look ahead to progress on Phoenix-area freeways during our new year, I don't want to let 2016 disappear too far in the rearview mirror. So check your blind spots while I take one more quick glance back at the accomplishments of the ADOT project crews who delivered some big results last year. Among the improvements you and I are now experiencing are the new Loop 101 lanes south of Shea Boulevard in the Scottsdale area, the Loop 202 widening project all the way out to Broadway Road in east Mesa and, not to be left out, the dramatically improved stretch of Loop 303 from north of Bell Road to Happy Valley Parkway in the northwest Valley. And let's not forget the opening of the new Bell Road bridge over Grand Avenue. Each of these projects has made a difference for drivers across our large metro region.
The good news is that we'll have a lot more to talk about in 2017.  As you might imagine, the Loop 202 South Mountain Freeway will receive its share of attention. In the coming months, Connect 202 Partners, the private development consortium building the freeway in partnership with ADOT, will set foundations for some of the 40 bridges that will be part of the project. I-10 drivers near 59th Avenue west of I-17 are now seeing work on access roads near where the South Mountain Freeway will connect with the Papago Freeway. It'll take a lot of work and a lot of construction material before the much anticipated Loop 202 link between the East Valley and West Valley opens to traffic by late 2019.
The new year will see the opening of additional elevated ramps at the "south half" of the large freeway-to-freeway interchange connecting Interstate 10 with Loop 303 in Goodyear (the photo above shows recent work there). To refresh your memory, the north half of the interchange opened in 2014 and has made a big difference in allowing West Valley drivers to make the direct I-10 connection to or from Loop 303 north of the interstate. By the end of 2017, Loop 303 will be extended south to Van Buren Street, and the remaining ramps at the interchange, including some tall flyover structures, will allow traffic to make a seamless connection to or from Cotton Lane. As with those ramps, things are looking up for the movement of people and products across the Valley. In some areas, it'll be out with the old and in with the new. That includes a busy stretch of I-17 in Phoenix that will be resurfaced with a new top layer of smooth, durable rubberized asphalt. In order to replace the old, worn pavement, ADOT will schedule a series of weekend closures along I-17 in sections anywhere from 19th Avenue near the Durango Curve north to near Peoria Avenue. The spring months provide the required weather and temperature range to resurface with the rubberized asphalt. We'll be putting a lot of effort into advising drivers to consider alternate routes like State Route 51 or another roadway where they're less likely to encounter heavy traffic. Stay tuned for updates on that important improvement work along the Black Canyon Freeway.
Before I head out for an interview, here's my pitch for using extreme caution in highway work zones. You can be a lifesaver if you slow down, buckle up, avoid distractions and pay attention when approaching and traveling through work zones. Please think of that highway worker as one of your neighbors or maybe even be your brother or sister, uncle or a best friend's relative. Give them a brake and observe our state's Move Over Law. When you see those emergency lights, even from an ordinary passenger car, move over at least one lane or slow down to boost the level of safety out there on the freeway.
Have a great and safe 2017.