As piers rise from below, Pinto Creek project at halfway point
As piers rise from below, Pinto Creek project at halfway point
By Garin Groff / ADOT Communications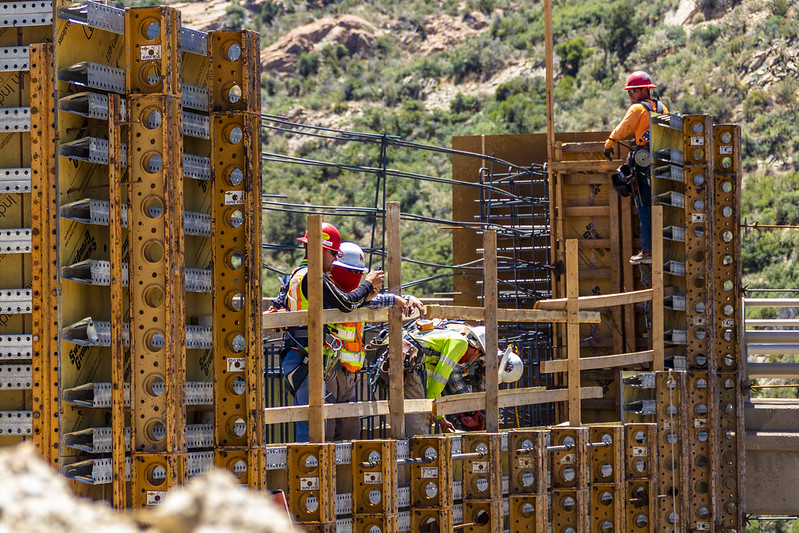 A highrise of sorts is now standing within a few feet of US 60 where the Pinto Creek Bridge replacement project is underway east of Superior, but drivers passing through can be forgiven for overlooking it.
That's because the towering structure is a 158-foot tall bridge pier rising from the bottom of a deep canyon, topping out roughly at the same level drivers pass through the area on the existing bridge.
The bridge pier is significant not just for its height, but also because its construction comes at what is roughly the halfway point of the $22.7 million bridge replacement project. This video gives a different perspective of how much progress ADOT is making, and you can really appreciate the height of the new piers as well as the existing bridge. If you still want more, we recently shared a fantastic slideshow showing what crews have been up to.
Once the three sets of bridge piers are complete in the coming months, crews will work into early 2021 to construct the bridge deck. That work will be a little more visible to drivers, as crews will work within about 30 feet of the existing bridge and at the same level as passing traffic.
Fortunately for drivers, ADOT will continue to minimize traffic impacts by keeping both lanes of travel open on US 60 in the project area during nearly all other stages of the project. 
Drivers can expect some restrictions when the concrete bridge deck is poured in early 2021. When the project nears completion next summer, US 60 will close for up to 5 days while crews realign the highway to the new structure. The existing bridge will be dismantled after traffic is shifted to the new structure.
For more information, please visit azdot.gov/PintoCreekBridge.