PLAN AHEAD: Major weekend closure of eastbound I-10 in the East Valley
PLAN AHEAD: Major weekend closure of eastbound I-10 in the East Valley
By Tom Herrmann / ADOT Communications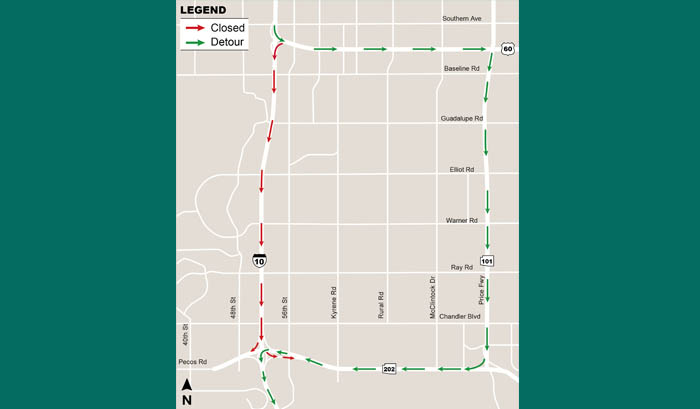 The South Mountain Freeway is the largest freeway construction project in Arizona history.
This weekend will be the largest freeway closure in the three years we have been building the South Mountain Freeway.
Please, plan ahead to save yourself some aggravation and potentially a lot of time.
Beginning Saturday morning, eastbound Interstate 10 will be closed between US 60 the Loop 202, where the Santan and South Mountain freeways meet. We need the closure to remove old overhead signs and replace them with signs related to the South Mountain Freeway, a 22-mile route that will connect I-10 in Chandler with I-10 at 59th Avenue west of downtown Phoenix.
A little earlier, beginning about 10 p.m. on Friday, the eastbound on-ramp at Ray Road and ramps from eastbound I-10 to Loop 202 are scheduled to close. Westbound I-10 will be open as normal throughout the weekend.
We're asking drivers on eastbound I-10 to take US 60 east to Loop 101 (Price Freeway), then south to the Loop 202 (Santan Freeway) and back to I-10. All ramps to eastbound I-10 between US 60 and Loop 202 also will be closed. With eastbound I-10 closed, it's likely that surface streets in the area may be crowded too.
There are other restrictions this weekend. Because of planned maintenance of the Deck Park Tunnel, eastbound I-10 will be closed from 9 p.m. Friday to 9 a.m. Saturday between the Stack interchange and State Route 51.
On southbound Loop 101 (Price Freeway), all travel lanes will remain open, but a number of ramps will be closed.
When we can, we schedule weekend closures on weekends to minimize the impact on drivers, as we have done much of this summer along the new I-10 interchange with the South Mountain Freeway west of downtown Phoenix.
We encourage you to plan ahead to make this weekend as easy as possible.