Prescott Municipal Airport named 2014 Airport of the Year
Prescott Municipal Airport named 2014 Airport of the Year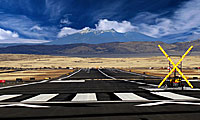 The City of Prescott has long been recognized as one of Arizona's premier spots for travel and tourism — a getaway during the heat of summer in the desert and a destination when the snow falls in the winter. The city's airport is essential to the flourishing tourism industry, and is now being recognized for its outstanding service and accomplishments over the past year.
The Arizona Department of Transportation has named the Prescott Municipal Airport/Ernest A. Love Field as the 2014 Airport of the Year. The award was presented recently to the airport manager and staff at the Arizona Airports Association annual conference in Yuma.
Last year, the Prescott Municipal Airport logged more than 250,000 takeoffs and landings, making it the third busiest airport in the state and the 37th busiest in the country. In 2013, more than 5,000 passengers used the airport to connect to flights through Great Lakes Airlines.
The airport supports an estimated 700 jobs and generates $69 million for the local economy each year. Much of the airport's activity is generated by flight training conducted by Embry-Riddle Aeronautical University, Guidance Aviation, North-Aire and Universal Helicopters. Other activities include recreational aviation, scheduled airline service, corporate aviation, business aviation, military operations and firefighting operations.
Some of the airport's major successes and accomplishments over the past year include:
Completion of an $11.3 million runway safety improvement project.
Development of airport budget cost centers to better manage airport revenues and expenditures.
Development and implementation of an airport tour program and development of a new airport website.
Development of an airport historical exhibit for the public area of the terminal building and the development of an airport history section on the facility's website.
Guest lecturing on airport-related topics at Embry-Riddle Aeronautical University.
ADOT presented airport staff with a plaque at the awards ceremony in Yuma. A sign will be erected near the airport announcing Prescott Municipal Airport as the 2014 Airport of the Year.
While there are 114 airports across Arizona, 83 airports — including 11 privately owned airfields and 14 Native American-owned airports — are identified in ADOT's system of airports. These 83 airports vary in size and serve different functions in meeting Arizona's aviation and economic needs. Arizona's total economic impact from this system of airports is $58 billion annually, according to ADOT research. ADOT works with 65 of the 83 airports throughout the federal and state grant process as part of the Airport Development Program.
ADOT's Aeronautics Group within the Multimodal Planning Division accepts applications and nominations for the Airport of the Year. The Aeronautics Group looks at accomplishments in the areas of community relations, airport management, airport maintenance activities, and innovative activities and programs implemented at airports. Find more information about ADOT's Aeronautics Group and Airport Development Program on our website.