Preserving, relocating native plants a big part of ADOT's Loop 101 project
Preserving, relocating native plants a big part of ADOT's Loop 101 project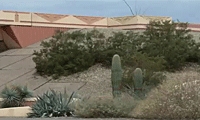 By Caroline Carpenter / ADOT Communications
What weighs up to 5,000 pounds, is more than 100 years old and can be more than a little prickly about moving?
Give up?
It's one of the hundreds of saguaros in temporary quarters next to the Loop 101 Pima Freeway project.
As portions of the project wrap up, crews have been working to move more than 1,000 saguaros, along with native trees, to new locations.
Transplanting the massive desert plants isn't an easy task. The video above explains what goes into maneuvering these thorny giants.