Prince Road/I-10 underpass, ramps to close as ADOT widens busy interchange
Prince Road/I-10 underpass, ramps to close as ADOT widens busy interchange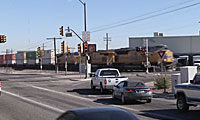 Progress is being made on the I-10 widening project we first told you about back in October and construction has reached a milestone, requiring a closure in the Tucson area...
Beginning March 12, the I-10 Prince Road underpass and ramps will close. This closure is necessary so ADOT can widen this busy Tucson interchange.
But, don't worry ... motorists can use Ruthrauff Road or Miracle Mile ramps to enter or exit I-10. Businesses in the area will remain open during construction and are accessible on both sides of I-10 using frontage roads and nearby surface streets.
A little background on the project
This project is designed to widen I-10 to four lanes in each direction from Ruthrauff Road to Prince Road.
Crews also are working to reconstruct the Prince Road traffic interchange so that the road will pass over Union Pacific Railroad tracks and I-10. This is vital due to frequent traffic backups and delays at the Prince Road/I-10 intersection (more than 40 trains pass through the area each day, which can cause traffic to back up onto nearby I-10).
Work, which should be complete by late 2013, also includes new landscaping and the updating of on- and off-ramps to provide better connections and improved access for motorists.