Project to rebuild US 89 near Page moves forward
Project to rebuild US 89 near Page moves forward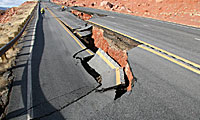 One year ago today, a landslide caused major damage to a stretch of US 89 located in northern Arizona.
Back then, months before an extensive geotechnical analysis would be concluded, no one could really be certain of what caused the roadway to fail. Here's a sample of what we blogged at the time:
A 150-foot section of the road "buckled" (Feb. 20, 2013) in an area about 25 miles south of Page – the cause of the highway damage may have been a geologic event.
If you've been following us since that initial blog post/video, you know that much has happened in these 12 months, including a vast geotechnical investigation, the paving of US 89T and, more recently, environmental site surveys.
So what's next?
Currently, ADOT is gearing up to start construction in early summer and potentially complete the emergency repair by the end of this year – if there are no environmental, utility or right-of-way hurdles.
Since August, ADOT has retained an engineering design firm and developed plans for the eventual repair; finalized all federally required environmental reviews that include cultural, biological and water quality measures; and completed the plans for the required right-of-way easements.
The environmental and design process for a normal project can take two years to complete, but ADOT has been working with the Federal Highway Administration, Navajo Nation, Navajo Division of Transportation and the Bureau of Indian Affairs to expedite the environmental, utility and right-of-way clearance and approval process, knowing the lack of a usable road between the Bitter Springs and Page communities is a hardship for many people.
Major milestone
ADOT passed a major milestone this week toward beginning construction on the ultimate repair of US 89. The final environmental documentation was submitted to the Federal Highway Administration yesterday (Feb. 19, 2014) for review. Without this clearance, ADOT cannot use federal funds for this project. While that approval is pending, ADOT continues work on the pre-construction elements of the project, like finalizing the design of the repair.
ADOT also continues to work with the Navajo Nation on obtaining right-of-way easements that will be necessary prior to construction. An agreement between the Federal Highway Administration, Navajo Nation and Bureau of Indian Affairs must be reached to establish an expanded easement that facilitates construction, as well as operations and maintenance of the full repair.
More on the project
The repair is currently estimated to cost $25 million. The project will include moving the roadway approximately 60 feet toward Echo Cliffs and using that rock to construct a downslope buttress to stabilize the area. ADOT wants to start the repairs as soon as possible following environmental, utility and right-of-way clearances.
The US 89 emergency repair project is eligible for reimbursement through the Federal Highway Administration's emergency relief program, which provides funding to state and local agencies for the repair or reconstruction of highways, roads and bridges that are damaged in natural disasters and catastrophic failures.