Public comment period begins this week for ADOT's passenger rail study
Public comment period begins this week for ADOT's passenger rail study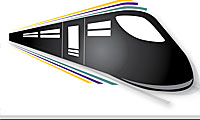 What's your opinion of a possible passenger rail link between Phoenix and Tucson?
More specifically, what do you think of the three potential route alternatives we told you about last summer?
Three alternatives
Public outreach events and online participation are beginning this week so ADOT can get input on the three potential routes between the two major metropolitan areas. In case you don't remember what the route alternatives are, here's a refresher:
The Green Alternative, which would run along I-10 between Phoenix and Tucson
The Orange Alternative, which would serve East Valley population centers and share part of its alignment with the planned North-South Freeway Corridor
The Yellow Alternative, which would also serve East Valley communities and share right of way with Union Pacific Railroad north of Eloy, where appropriate. All three alternatives would run along I-10 south of Eloy
We want to hear from you!
ADOT will participate in a series of community events in Maricopa, Pinal and Pima counties to reach out to community members to get their ideas and opinions. The outreach events kick off Friday with a passenger rail booth at the Chandler Ostrich Festival, March 7-9. A complete list of outreach events during March, April and May can be found at azdot.gov/passengerrail.
The public can also participate and comment through an online survey. That survey, along with maps of the three alternatives and a participation booklet, can also be found at azdot.gov/passengerrail.
The public comment period runs through May 31.
More about the study
ADOT's Passenger Rail Corridor Study is part of the department's long-range plan to determine what it will take to construct a rail line to link Phoenix and Tucson, while meeting demands for future growth and travel options along I-10, one of the busiest highway corridors in Arizona.
Along with the three potential alignments, ADOT is studying sites for station locations along the passenger rail line. The route between Phoenix and Tucson will be designed as a blended service: An express service would have few stops between the two metropolitan areas, and a local service would stop at several communities along the way.
The alignments include system hubs located near downtown Phoenix and downtown Tucson, and each includes extensions beyond the system hubs that would link to the west Phoenix metropolitan area. Alignments would also connect to Phoenix Sky Harbor International Airport, Tucson International Airport and Phoenix-Mesa Gateway Airport.
ADOT is working toward establishing one preferred rail corridor for further study. There is currently no construction schedule and no funding identified to build a rail system between Phoenix and Tucson. It will be up to the public, policymakers and the federal government to decide if the project should move forward and how to generate the funding to pay for it. The study still includes the no-build option.
Find more information about ADOT's Passenger Rail Corridor Study online, azdot.gov/passengerrail. You can also revisit some of our previous blog posts on the subject.