From the Rearview Mirror: Loop 303
From the Rearview Mirror: Loop 303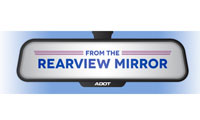 With hundreds of blog posts in our archives, we understand if you haven't had a chance to read them all.
However, there's a lot of interesting content in those early posts and we don't want you to miss out. That's why we're looking back and highlighting some of our favorites in a series called, "From the Rearview Mirror."
**********
Originally published one year ago, this blog post highlights a very big milestone: the completion of all four ramps connecting Loop 303 and I-10. The post and the video mark the conclusion of a project that started back in 2011. That new interchange was – and still is – important, not just for West Valley drivers, but to the entire state because of its ability to help to expand commerce while also easing travel throughout the region.
We've blogged a lot about the Loop 303 and we're not done yet. In the coming weeks, we'll be sharing some updates on the continued improvements to the freeway. Several projects, stretching from I-10 to Happy Valley Parkway, are designed to improve traffic conditions.
---
All ramps are open at the Loop 303/Interstate 10 traffic interchange
Have you heard the news? All four of the ramps connecting Loop 303 and I-10 are open!
We told you about the first two ramps (southbound Loop 303 to eastbound I-10 and eastbound I-10 to northbound Loop 303) last month. Shortly after that, the two additional ramps (westbound I-10 to northbound Loop 303 and southbound Loop 303 to westbound I-10) opened up to drivers on Aug. 24.
As you can see in the video above, there's also a frontage road system connecting Sarival Avenue to Citrus Road – it is expected to open by mid-September and is the last piece of this phase of the interchange project. Phase II of the project, which will provide southbound access from I-10 to Van Buren Street, is currently in design and is expected to begin construction in 2016.
Looking back
Work on the interchange started in late 2011 and we've been covering the project's progress along the way. We thought it might be fun to look back at some of those posts and videos. After you finish watching the video above, check out these links to learn more about:
Of course, the interchange is just one part of the improvements happening along the Loop 303 corridor. ADOT is working to improve Loop 303 to create a six-lane freeway with three general-purpose lanes in each direction between I-17 in Phoenix and I-10 in Goodyear.