From the Rearview Mirror: Sign Shop
From the Rearview Mirror: Sign Shop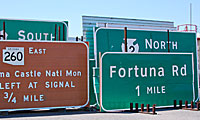 With hundreds of blog posts in our archives, we understand if you haven't had a chance to read them all.
However, there's a lot of interesting content in those early posts and we don't want you to miss out. That's why we're looking back and highlighting some of our favorites in a new series called, "From the Rearview Mirror."
**********
Originally published on Aug. 22, 2013, this blog post gives a behind-the-scenes look at the ADOT Sign Shop, a place where thousands of signs are created each year. We followed this post up with a look at how ADOT created signs back in 1979 (surprisingly many of the methods employed then are still being used today!).
---
A look at ADOT's Sign Shop
The ADOT Sign Shop is one very busy place…
Nearly 35,000 signs were created there during last fiscal year alone – that averages out to almost 3,000 signs each month!
Work orders come in from all over the state and can range from one or two signs to enough to re-sign a whole route (as was the case after a landslide forced a closure on US 89 – multiple new signs were needed to make drivers aware of the detour routes).
In addition to all the signs you see as you're driving the state's highway system, the sign shop crew also is responsible for creating the signs posted in ADOT rest areas and MVD offices.
Every sign is created by following guidelines (relating to size, color, shape, etc.) established in the federal Manual on Uniform Traffic Control Devices and ADOT's Manual of Approved Signs.
Sign Shop Supervisor Marvin Phillips says his busy crew is dedicated. "Our customers are the driving public," he said. "Their safety is our No. 1 concern."
Check out the slideshow above for a behind the scenes look into ADOT's Sign Shop.