Reducing motorcycle-crash deaths a statewide priority
Reducing motorcycle-crash deaths a statewide priority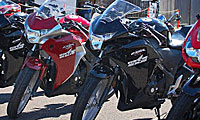 Motorcycle-crash deaths in Arizona rose 59 percent between 2010 and 2011, an alarming statistic ADOT Director John Halikowski spoke of during a safety event held yesterday in Gilbert.
Halikowski was joined by Governor's Office of Highway Safety Director Alberto Gutier and both stressed the importance of rider training while talking about statewide efforts to reduce fatal motorcycle-related crashes...
"As our economy continues to recover, people are driving more, and that's a factor when it comes to increasing crashes and fatalities, especially motorcycle-related deaths," said Halikowski. "We'd encourage any riders to take safety courses approved by the Motorcycle Safety Foundation."
Finding effective strategies for reducing crashes, fatalities and serious injuries
Governor Jan Brewer has directed ADOT and the highway safety office to develop a range of strategies for reducing motor vehicle crashes and fatalities in Arizona.
"Governor Brewer has made this one of the state's goals and driver education will play a big role in making it happen," said Gutier. "Motorcycle rider training is an important example of that."
The state's public safety agencies will work this year with other safety organizations and stakeholders to update the Arizona Strategic Highway Safety Plan.
"We're determined to turn any trend toward increased deaths and injuries around," said Halikowski. "In addition to motorcycle training, it will be important for all of us as drivers to be vigilant in paying extra attention to motorcycle riders, bicyclists and pedestrians."
Director Gutier said motorcycle and general passenger vehicle safety starts with reducing the leading causes of traffic crash deaths.
"We all benefit when we obey speed limits, don't drive while impaired, avoid distractions and use proper restraints."
The TEAM Arizona motorcycle-training center in Gilbert, which hosted Wednesday's event, marked the training of its 100,000th rider over more than two decades. That rider was presented with a new Kawasaki motorcycle.