With spring comes a fresh start for motorcycle safety
With spring comes a fresh start for motorcycle safety
By David Rookhuyzen / ADOT Communications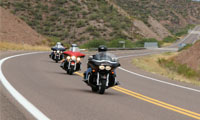 There's just something wonderful about spring. The weather warms up, flowers bloom and everyone is ready to get out of the house.
But as many hit the road in their pickup truck, sedan, crossover, SUV or RV, we can't forget those who think the best way to see the state is on two wheels. 
The number of motorcyclists on the road always jumps sharply once spring arrives, but we want to make sure the number of crashes involving motorcyclists doesn't do the same. According to the National Highway Traffic Safety Administration, there were 5,014 motorcycle riders killed in crashes in 2019.
That's why May has been designated Motorcycle Safety Awareness Month. It's a reminder to drivers on two wheels or four to both do their part to keep motorcyclists riding.
So what can you do? Here are some simple things that will keep everyone safe on the road.
For all drivers:
Remember: A motorcyclist has the same rights, privileges and responsibilities as any other motorist on the roadway.
Give a motorcyclist a full lane width to maneuver safely.
Always look for motorcycles by checking your mirrors and blind spots before changing lanes. You can use your mouse to interact with the graphic to the right to see how easy it is for a motorcycle to go unnoticed.
Motorcycles are smaller and more difficult to see, so keep an eye out.
Allow more distance – three or four seconds – when following a motorcycle. This gives the motorcycle rider more time to maneuver or stop in an emergency.
For motorcyclists:
Obey all traffic laws and be properly licensed.
Wear a helmet and use reflective tape and gear to be more visible.
Never ride while impaired or distracted – it is not worth the risk of killing or injuring yourself or someone else. According to the NTHSA, more than 1/4 of all motorcyclists killed in 2018 were drunk.
When it comes to riding a motorcycle, training and safety gear are critical. ADOT encourages all riders to take a state-authorized training course.
Now let's get out there and enjoy a nice (safe) spring!