Replacing wiper fluid jugs with tablets saves money - and more
Replacing wiper fluid jugs with tablets saves money - and more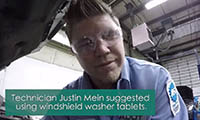 By Steve Elliott / ADOT Communications
ADOT's culture of continuous improvement has every employee, everywhere, solving problems every day. Under the Arizona Management System championed by Governor Doug Ducey, we're constantly looking for ways to improve our value to customers including you.
The video above explains how one employee's suggestion has paid big dividends at our Equipment Services shops, which maintain and repair ADOT vehicles as well as vehicles from other agencies.
Justin Mein, a technician at the Tucson shop, looked at all the bottles of wiper fluid used at his operation and suggested an alternative: tablets that can be dropped into water in a vehicle's reservoir to create wiper fluid.
The benefits begin with taxpayer dollars – using tablets costs 71 cents less per gallon than relying on bottled wiper fluid – but involve much more than that. The tablets eliminate the waste of employees having to lug around gallon jugs of wiper fluid. The change also has greatly reduced plastic waste and the storage space that must be devoted to wiper fluid.
Previous ADOT blog posts have shared videos highlighting employee ideas that have improved how we upgrade overhead message boards, protect highway signs from graffiti and repair street sweepers, among other subjects. We'll have many more to share in the coming months.