Road Trip Recipes: Salt River Pretzel Bites
Road Trip Recipes: Salt River Pretzel Bites
By John LaBarbera / ADOT Communications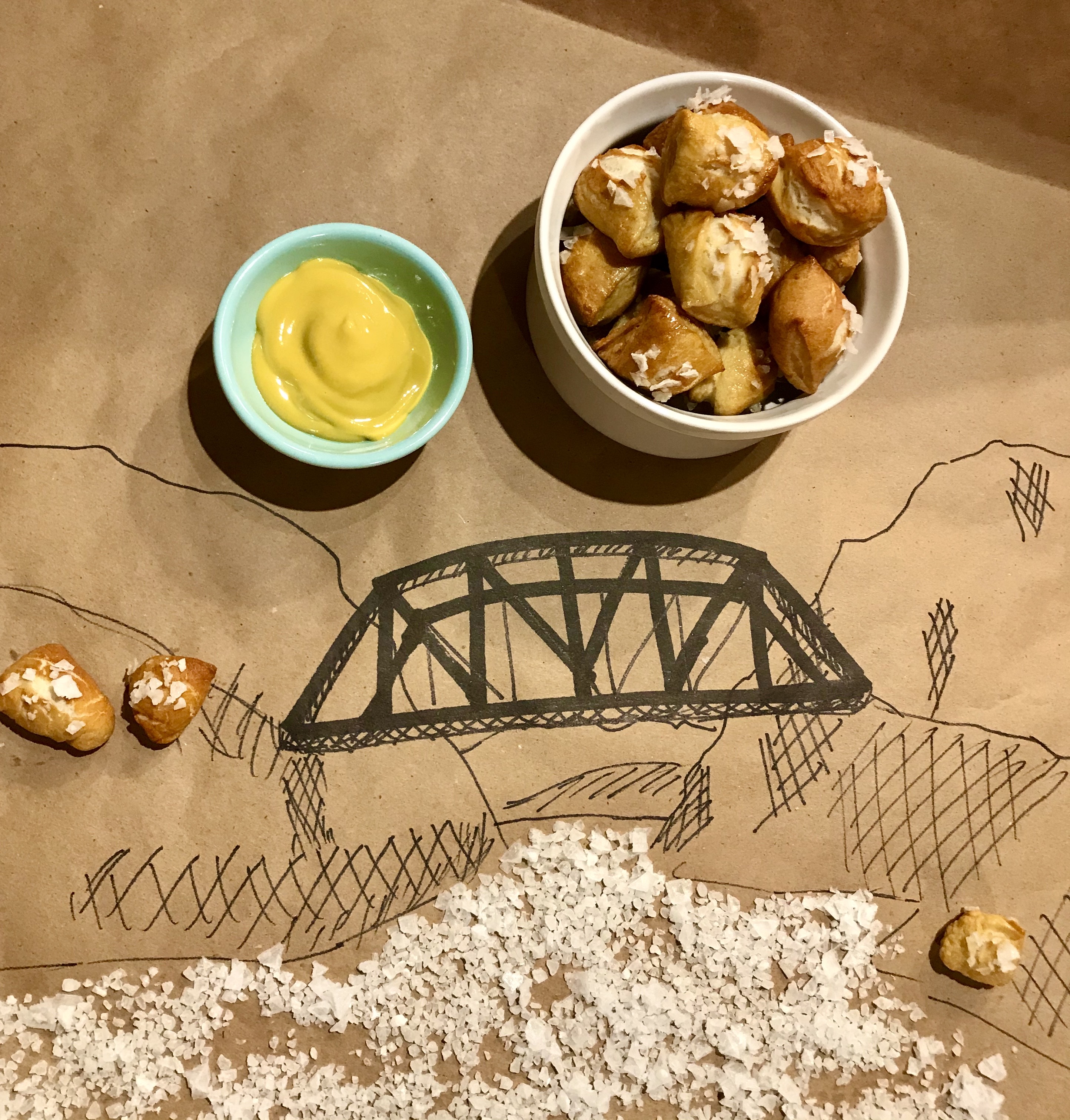 Greetings, hungry travelers!
The holidays are but a memory and wintertime has settled in once again. Good portions of our state will experience snow and frigid temperatures for the foreseeable future. Heck, even the low 40s that folks see in Phoenix and Tucson this time of year can be downright bone-chilling for desert dwellers.
So how about staying inside and whipping up something warm and scrumptious to enjoy while wrapped up in a cozy blanket on your favorite couch and/or futon?
For this edition of Road Trip Recipes, we are proud to present: Salt River Pretzel Bites!
We'll get to the recipe in just a moment. First, let's talk a little bit about its namesake.
The Salt River travels close to 200 miles between Maricopa and Gila counties. It ends as a tributary of the Gila River near Tolleson, but we can follow it back northeast as it winds through man-made reservoirs such as Theodore Roosevelt Lake. We can keep going quite awhile until we reach its formation at the confluence of the White and Black rivers in the White Mountains. It's that spot, known for huge salt deposits, that give the Salt River its name.
Now, you may be thinking, "Well, all that is absolutely fascinating. But what does it have to do with transportation?"
We're glad we assumed you asked!
The Salt River lends its name to some very important pieces of ADOT infrastructure.
Namely, the Salt River Bridge. In fact, there are several of them!
In the Phoenix metro area, you'll find a Salt River Bridge on Interstate 10 between the I-17 "Split" interchange and University Drive. The current iteration of the bridge opened in 1986; it's nearly a quarter mile long and carries millions of drivers over the often dry riverbed each week. You'll also find a Salt River crossing on both the Loop 202 South Mountain Freeway and the Loop 202 Red Mountain Freeway. The latter's bridges, spanning the river just west of the Loop 101 Pima Freeway, are the longest in the entire state!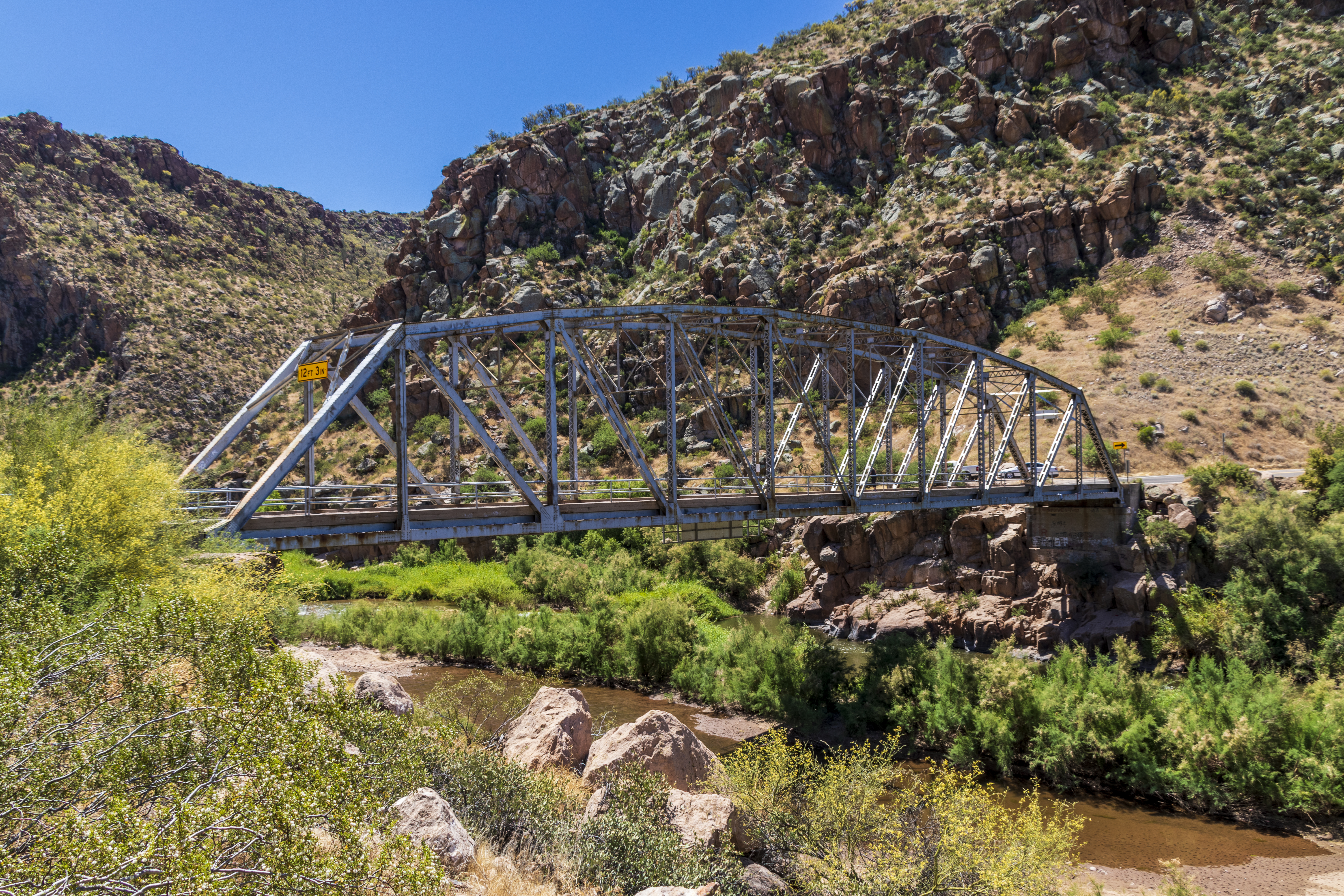 There's a Salt River Bridge on State Route 288 too. You'll find it just north of the junction with State Route 188 near Roosevelt Lake. This one was built a solid 100 years ago in 1920 and is on the National Register of Historic Places. You can see that in the photo to the right.
That leads us to US 60. This highway finds itself going over the Salt River about halfway between Globe and Show Low. But the interesting thing is, there are TWO Salt River Bridges there! The first one was built in 1934 and funded by the New Deal's Public Works Administration. It's now restricted to pedestrian traffic only and can be found on the National Register of Historic Places. The modern bridge opened in 1996 and is a striking shade of rose, adorned with beautiful symbols commemorating the Native American communities in the area. That's the beautiful piece of architecture you see at the top of this post. 
Close by this bridge pair you'll find the Salt River Canyon Rest Area. Not just a place for personal hygiene, this rest area offers pleasant views of the Salt River. Walk down a few steps and you'll find  picnic tables on which you can enjoy a quick meal while overlooking the water. In 2014, the Salt River Canyon Rest Area received a major renovation, including the addition of solar panels that now power the facility. 
Now, let's make some pretzels!
Salt River Pretzel Bites
1 ½ cups warm water
1 packet instant yeast
1 teaspoon salt
1 tablespoon brown sugar
2 tablespoons melted butter
4 cups flour
9 cups water (for baking soda bath)
½ cup baking soda (for baking soda bath)
Topping Options:
Coarse sea salt
Everything bagel mix
Cinnamon sugar
Prepare:
In a large mixing bowl, whisk the yeast together with the warm water. Let stand 1 minute, then whisk in the salt, brown sugar, and melted butter.
Add flour, one cup at a time, mixing with a wooden spoon until dough forms.
Knead dough for 3 minutes and shape into a ball. Cover with a slightly damp towel and allow to rise for 10 minutes. 
Combine water and baking soda into a large pot. Start bringing to a boil. In the meantime, preheat the oven to 400°F. Line baking pans with parchment paper and coat with nonstick spray. 
Using a pizza cutter, cut the dough into 6 equal sections. Roll each section of dough into 1 inch ropes. Cut the rope every 1 ½ inches with the pizza cutter, forming your bites. 
Drop 8-10 pretzel bites into the boiling water at a time for 20 seconds. Retrieve bites with a slotted spoon and drain as much water as possible. Spread onto your prepared baking sheet and sprinkle with the topping of your choice. 
Bake for 12 minutes or until golden brown.
Recipe should yield about 100 bites. Pretzels can be stored for up to three days in an airtight container. Serve with a dip of your choice!