Salome founded by larger-than-life character
Salome founded by larger-than-life character
By Laurie Merrill / ADOT Communications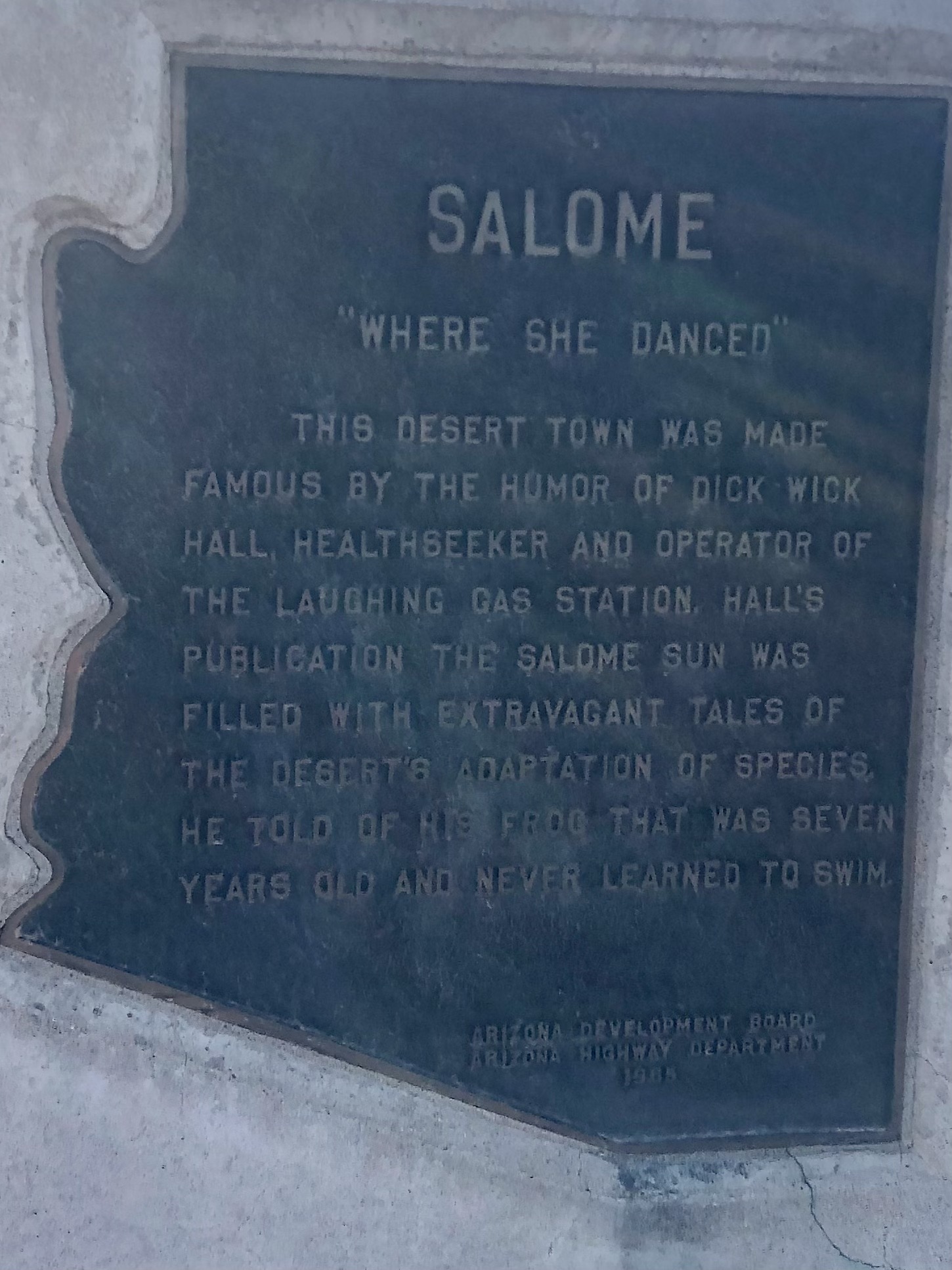 In Arizona, it seems like a never-ending trail of legendary, larger-than-life figures added their own brand of mischief and mayhem to the state's colorful past.
One of these was Iowa-born Dick Wick Hall, who moved to our state in 1898 to live with the Hopi in northeastern Arizona and learn their snake dance.
You can read a bit about this character on an historical marker in Salome on US 60 some 60 miles west of Wickenburg.
It says:
"Salome, where she danced. This desert town was made famous by the humor of Dick Wick Hall, health seeker and operator of the Laughing Gas Station."
"Hall's publication, the Salome Sun, was filled with extravagant tales of the desert's adaptation of a species. He told of a frog that was seven years old and never learned how to swim."
If you want to know more about this character, there's probably no better source than the McMullen Valley Chamber of Commerce, which has an entire website page dedicated to him and his place of importance in what the website calls "the heart of Arizona's Outback."
For starters, Dick Wick Hall, born Richard Deforest Hall, changed his name after falling in love with Wickenburg.
Miner, prospector, speculator, newspaper publisher, humorist and businessman, Hall became one of Salome's founders in 1904.
He and fellow founder Charles Pratt called the area "Happy Valley" before settling on a name. It was during this time that Pratt's wife, Salome Pratt, attempted to walk on the hot desert sand in her bare foot and wound up "dancing" to her destination.
"There and then Dick Wick Hall named the town 'Salome, where she danced, Arizona.' The founder of Salome is honored with both a historical marker on Highway 60 and Center Street, and the historical gravesite near the site of his old office and home, located at the intersection of Center and Hall Streets," the website says.
In addition to his newspaper, he opened the Laughing Gas Station, where he covered the walls with signs making fun of Arizona's weather. Among these were one proclaiming "Free hot air" and another saying, "Smile, smile, smile. You don't have to stay here but we do."
Credited with being Arizona's most famous humorist, Hall's widely popular syndicated column was published in 28 newspapers from New York to California.
And of course, there was Hall's famous "Salome Frog," who never learned to swim because Salome was so hot, dusty and dry. Hall wrote a poem about his swim-less amphibian, which concludes: "I'm an Old Bull Frog, dang my hide, I can't swim because I never tried."