Santa makes a stop at ADOT's Grand Canyon Airport
Santa makes a stop at ADOT's Grand Canyon Airport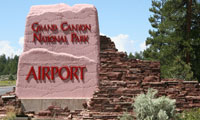 By Ryan Harding
ADOT Office of Public Information
Last week, Santa Claus made a quick stop at the Grand Canyon National Park Airport, owned and operated by ADOT; but he didn't exactly arrive in a sleigh pulled by reindeer. Instead, he was flown in from way up north by Maverick Helicopters, a long-time tenant at the airport.
The group of around 30 first-graders from the local Grand Canyon Elementary School who came to see Santa cheered wildly as the helicopter landed and jolly ol' Saint Nick hopped out and did a little dance for the kids.
Santa and the kids made their way inside the terminal where each child told Santa what they wanted for Christmas and then received a gift from Santa. Among the items most requested were iPads and puppies. One little girl just said to Santa, "Surprise me."
The staff at the airport has put on this event for more than a decade.
"This party has become a tradition here at the airport," said Mike Halpin, Grand Canyon Airport manager. "The smiles on the kids' faces make the effort by the staff worth it. They really do a great job of hosting this event."
The children also helped decorate the Christmas tree in the main terminal and enjoyed snacks provided by the airport staff and Vision Airlines.
For years, the event was handled entirely by airport staff members, who would pay for the snacks and gifts out of their own pockets. This year, ADOT Awards and Recognition got involved to help put on the event by getting sponsors like Walmart to donate gifts for the children.
"We are happy to help the airport staff with the kids' Christmas party this year," said Candee Samora, ADOT awards and recognition program administrator. "It is important for us at ADOT to give back to the community, especially around the holidays."