Scenic flights have long history at Grand Canyon
Scenic flights have long history at Grand Canyon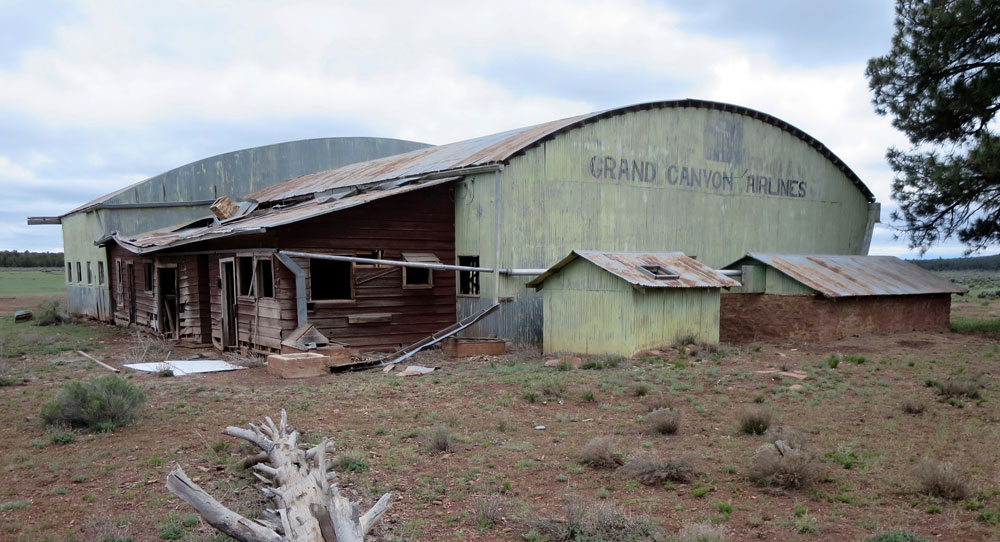 By Peter Corbett / ADOT Communications
For nearly a century, visitors have been taking to the skies for Grand Canyon scenic flights.
One of the first recorded air tours took off in February 1919, the same month Grand Canyon became a national park. A few years later, a barnstorming pilot landed safely within the canyon at Plateau Point near Indian Gardens.
For the past half century, scenic flights have embarked from Grand Canyon National Park Airport, a facility in Tusayan, just south of the park, operated by the Arizona Department of Transportation.
Those flights have become a popular option for seeing the mile-deep gorge, but it didn't start out that way.
Pioneering South Rim photographers Ellsworth and Emery Kolb established the first airfield outside the park in 1925. Air traffic was scarce, and other entrepreneurs built a competing airfield nine miles south of the national park near Red Butte.
Former Army pilot J. Parker Van Zandt, airport architect B. Russell Shaw and other investors developed the Red Butte Aerodrome starting in 1927 and launched Scenic Airlines there a year later.
"Their goal was an unprecedented, expansive passenger air tour over every national park in the United States," said Giacinta Bradley Koontz, an aviation historian and author of "The Original Grand Canyon Airport – A 1930s Scrapbook of Life at Red Butte."
She describes Red Butte as a "significant American contribution to aviation."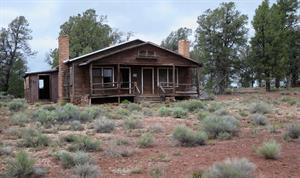 Red Butte was one of the state's better equipped airports at the time, with cabins and a lodge catering to pilots, according to a report nominating Red Butte for the National Register of Historic Places. Red Butte was added to the register in 2007.
The historic airport's cabins and lodge are gone, but its hangar, a bungalow, a barn and a root cellar remain on a Kaibab National Forest site east of State Route 64. A stone structure just off the highway is all that remains of a road sign with a windsock that marked the airfield.
Ponderosa pines surround the 90-acre airport site. Grasses now obscure the unpaved runways that crisscrossed a meadow. Red Butte to the south of the airport served as a landmark for pilots searching for the airstrip.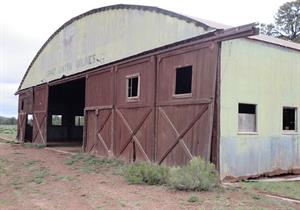 The Red Butte hangar, built with corrugated sheet-metal siding, looks intact from a distance. But wood-frame rooms that served as offices, a radio room and a mechanics shop are collapsing.
The hangar has a fading Grand Canyon Airlines sign on its façade. An older Scenic Airlines sign is discernible underneath layers of paint. Grand Canyon Airlines took over Red Butte Aerodrome from Scenic in 1930.
Today, the weathered airport is a ghost of its high-flying early years.
Charles Lindbergh visited Red Butte Aerodrome in April 1928, 11 months after his historic New York-to-Paris flight.
Scenic Airlines' air tour business ramped up in the summer of 1928 with about 500 flights. That included a flight for humorist Will Rogers after his visit to the Hopi mesas.
Van Zandt and Shaw expanded their Scenic Airlines operation to Phoenix in 1929 with a "dude flight school" and airfield they called Sky Harbor Airport. Shaw had worked as an engineer for the Wright brothers in 1916-17.
The stock market crash in 1929 grounded Scenic Airlines, and Grand Canyon Airlines took over Red Butte Aerodrome.
In September 1935, the airline hosted famous female aviator Amelia Earhart for a few days. She also relied on Red Butte chief mechanic Ernest Tissot to prepare her Lockheed Vega airplane for an historic flight from Honolulu to Oakland, Calif.
The U.S. military used Red Butte Aerodrome during World War II and built another airfield in Valle at SR 64 and US 180 that still exists.
In 1956, a crash of two airliners into Grand Canyon that killed 128 passengers and crew led to dramatic changes in aviation. The agency now known as the Federal Aviation Administration was created to improve safety. Arizona proposed building and operating dozens of airports statewide, but Grand Canyon was the only one the state developed.
Red Butte Aerodrome closed after Grand Canyon Airport opened in 1967. The Red Butte property was used for the Ten-X Ranch until 2003. The Red Butte lodge, said to be as impressive as El Tovar on the South Rim, burned in 1994.
The owners of Red Butte Aerodrome plan to stabilize and restore the hangar and other buildings.