Seeing is believing: ADOT has 20 more traffic cameras
Seeing is believing: ADOT has 20 more traffic cameras
By Laurie Merrill / ADOT Communications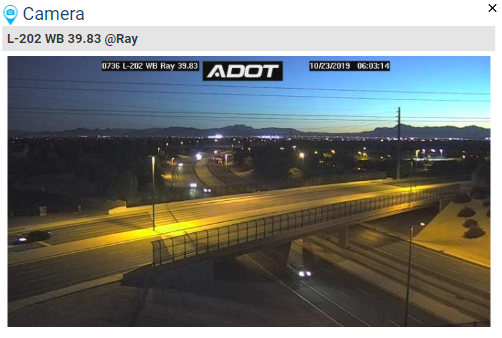 If seeing is believing, then Phoenix-area motorists can now get behind the wheel more confident than ever of what to expect when it comes to traffic conditions.
That's because we have added 20 traffic cameras on either end of the Valley to the Arizona Traveler Information site at az511.gov, giving drivers an even better look at what's happening on three freeways.
In the East Valley, nine additional cameras are available along the Loop 202 Santan Freeway from US 60 to Higley Road, like the one at Ray Road that took the image at right.
In the West Valley, five cameras are now providing images along Interstate 10 near Loop 303, from Estrella Parkway to Perryville Road. Another six cameras provide views of Loop 303 between I-10 and Northern Avenue.
ADOT now has more than 400 traffic cameras throughout Arizona's highways showing traffic and weather conditions.
Accessible to everyone on our az511.gov website and/or AZ511 app, the cameras effectively act as eyes on the road, allowing drivers to see conditions before beginning a daily commute or weekend trip.
To view them at az511.gov, click "Cameras" in the upper right corner and the map will populate with them.  A list version is also available.
On the AZ511 app, choose "Road Cameras" after clicking on the three gold-triangle icon in the lower right corner.
In addition to easy access to traffic cameras, AZ511 app users can receive information about delays, crashes, construction and closures. They get real-time information and receive alerts about their routes.