Slideshow: Bridge demolition moves Ina/I-10 interchange project forward
Slideshow: Bridge demolition moves Ina/I-10 interchange project forward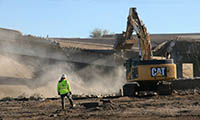 By Steve Elliott / ADOT Communications
We just received this slideshow from Wednesday's demolition of the eastbound Interstate 10 bridge at Ina Road in Marana. It documents a big step forward for a $120 million project creating a modern traffic interchange in a busy area northwest of Tucson.
Please note that while Ina Road is closed at I-10, ADOT is maintaining access to area businesses throughout.
By early 2019, motorists, residents and businesses will benefit from a bridge carrying Ina Road over I-10 and railroad tracks and offering ramps to and from the interstate.