Smoother highways coming to northern Arizona this year
Smoother highways coming to northern Arizona this year
By Ryan Harding / ADOT Communications
With warmer temps at hand, ADOT is starting paving projects in Arizona's high country to repair damage from winter weather and heavy commercial traffic.
A total of 182 lane miles will be paved or rebuilt this year. That's a lot of pavement! The highways in the northern areas have taken abuse from wintertime freeze-thaw cycles, snowplowing and heavy use from commercial and passenger vehicles over the years. These projects will provide a long-term fix for all of that wear and tear and provide a nice smooth surface to drive on.
Starting this month, work will begin on rebuilding the westbound lanes of I-40 west of Williams between mileposts 156 and 161. Work will also start on repaving 17 miles of I-40 in each direction between Parks at milepost 179 and Cataract Lake in Williams. This includes rebuilding the highway between mileposts 167 and 172.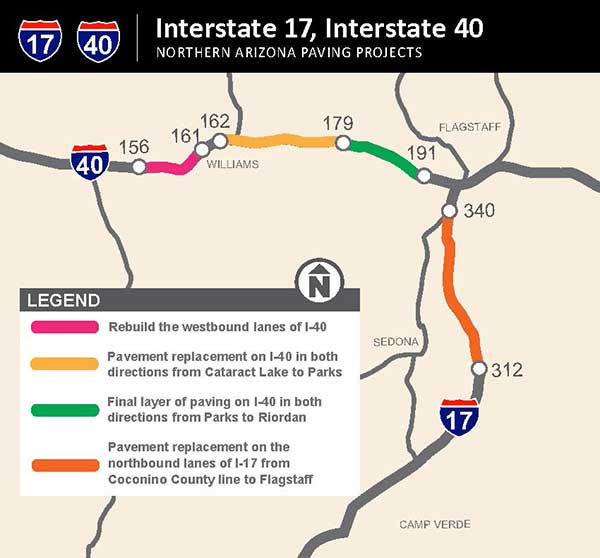 Another paving project on northbound I-17 will start around the end of April/beginning of May. This project will repave 28 miles of northbound I-17 between mileposts 312 and 340. Work will also include revamping the bridge decks on the I-17 overpass at Willard Springs Road.
And speaking of bridge work, a project to revamp the I-40 bridges over I-17 and Beulah Boulevard at the I-17/I-40 interchange in Flagstaff is getting underway. Drivers can expect restrictions to start the second week of April. This work will replace the I-40 bridge decks in each direction over Beulah Boulevard and westbound over I-17. The eastbound bridge over I-17 will get a new concrete surface for traffic to drive on.
Later this year, crews will return to finish a paving project that started last summer on I-40 between Parks and Riordan. Crews will apply the final layer of asphalt on the 12-mile stretch in each direction, completing that project.
So if you're heading to the high country this summer to escape the heat in lower elevations, check az511.gov and ADOT's Twitter feed for the latest in road conditions.