The Smoothness Factor
The Smoothness Factor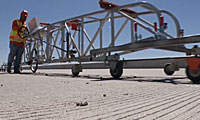 Nobody likes a bumpy ride.
In fact, ADOT goes to great lengths to make sure Arizona 's roads are as smooth as possible…even when that means walking hundreds of miles of roadway!
To measure the smoothness of a road, ADOT uses a machine called a profilograph that surveys the road for any lumps, bumps or dips. (Recently it was used to identify any imperfections in the newest stretch of Loop 303 before it opens this month – see video above.)
Basically, a profilograph is a highly sophisticated computer system attached to a large metal frame, 12 small wheels and an ordinary bicycle tire. The entire contraption, which is 25-feet long and weighs about 350 pounds, is pushed by hand over the full stretch of a roadway several times to provide the road's "smoothness factor."
The bicycle tire, which simulates the travel of a vehicle, indicates to the computer any dip or bump in the road greater than 3/10 of an inch. The resulting data details each imperfection in the road letting the contractor know what areas they need to go back and either fill or grind down.