For South Mountain Freeway, 2018 has been a year of great progress
For South Mountain Freeway, 2018 has been a year of great progress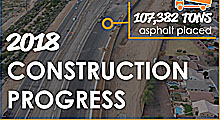 By Dustin Krugel / ADOT Communications
2018 has been an important year with the Loop 202 South Mountain Freeway in its second full year of construction. With the freeway nearly two-thirds completed, signs of progress abound in the 22-mile corridor. Asphalt pavement is being installed, concrete medians and artistic sound walls are being built and overhead message boards are above the future travel lanes.
To date, crews have installed 20 miles of drainage pipe, laid 107,000 tons of asphalt pavement, moved 9.9 million cubic yards of dirt and used 10,800 tons of rebar manufactured from recycled steel.
Some of the highlights:
Pecos segment (32nd Lane to I-10 Maricopa/Loop 202 Santan Freeway)
Crews have installed a new 48-inch waterline along a 1.3-mile stretch of Liberty Lane between Desert Foothills Parkway and 20th Street.
Mainline paving started between 17th Avenue and Desert Foothills Parkway and west of 40th Street to the I-10/Loop 202 interchange in Chandler.
Overpasses at 40th Street, 24th Street and 17th Avenue are nearly complete.
After months of environmental study and public input, ADOT and the Federal Highway Administration decided to add a freeway interchange at 32nd Street that will be constructed after the freeway opens to traffic.
Construction is underway on the 32nd Street interchange, including setting 15 steel-reinforced concrete girders (shown in the photo above).
Salt River segment (Lower Buckeye Road to 51st Avenue)
In September, crews set the 292nd and final girder needed on the two half-mile Salt River bridges, the longest of the project.
The Elliot Road bridge (shown above) opened to traffic in April, the first bridge completed for the South Mountain Freeway.
Estrella Drive reopened to traffic in late October after crews completed construction on an interchange that includes two roundabouts.
Crews laid the first "blacktop" lane mile of pavement from Estrella Drive to Olney Avenue in Laveen.
I-10 segment (I-10 Papago to Lower Buckeye Road and improvements to I-10 between 43rd and 75th avenues)
Crews completed a 1,500-foot flyover ramp over I-10 that will carry northbound South Mountain Freeway traffic to westbound I-10.
Motorists began using new I-10 access roads built in both directions between 51st and 67th avenues to improve traffic flow and maintain access to 59th Avenue.
In October, I-10 travel lanes shifted to the outside, or right side, of the freeway to allow the next phase of work on the South Mountain Freeway interchange to begin along the I-10 center median.
Center segment (51st Avenue to 32nd Lane)
Pre-construction work started, including plant salvage and geotechnical investigations.
Crews began work on bridge foundations by drilling shafts deep into the ground.
In April, controlled rock blasting started along two ridges at the southwestern edge of the South Mountain Park to break large rock into smaller, more manageable pieces for removal.
After months of environmental study and public input, ADOT and the Federal Highway Administration decided to add a freeway interchange at Ivanhoe Street that will be completed after the freeway is opened.
You can see more photos of progress at the project's Flickr page.
The South Mountain Freeway will provide a long-planned direct link between the East Valley and West Valley and a much-needed alternative to I-10 through downtown Phoenix. Approved by Maricopa County voters in 1985 and again in 2004 as part of a comprehensive regional transportation plan, the South Mountain Freeway will complete the Loop 202 and Loop 101 freeway system in the Valley.
For more information, visit SouthMountainFreeway.com.