South Mountain Freeway comment deadline extended to Dec. 29
South Mountain Freeway comment deadline extended to Dec. 29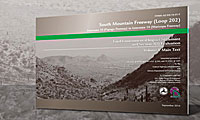 We've got a quick update for you today regarding the Final Environmental Impact Statement for the proposed South Mountain Freeway…
You'll remember that a Final EIS formally documents the analysis of potential impacts associated with the preferred alternative, other action alternatives and the No-Action alternative, and proposes mitigation for all the action alternatives. The Final EIS also incorporates changes based on comments received and updated analysis based on new socioeconomic and traffic projections.
That Final EIS for the proposed South Mountain Freeway was released in September 2014, kicking off a 60-day review period. However, an addendum to the Final EIS, called an "Errata," was recently published. This document contains 10 additional comments to the Draft EIS that were inadvertently not recorded in the Final EIS, and includes the responses to those comments. Because of this addendum, the comment period has been extended to Dec. 29 for final comments before a Record of Decision is issued in 2015.
You can check the Errata out in-person at 18 locations (listed in this news release).
What comes next
A Record of Decision is expected in early 2015. The final decision on construction of the freeway is a cooperative effort involving ADOT, the Federal Highway Administration and the Maricopa Association of Governments as the regional planning agency. The corridor is part of a comprehensive, voter-approved regional plan developed by the Maricopa Association of Governments, and ADOT serves as the agency responsible for implementation of that plan, with the Federal Highway Administration providing the oversight required to use federal transportation funds.
To take a look back at the process up to this point, you can revisit some of our previous posts.