South Mountain Freeway: Two-way traffic returning to Liberty Lane in Ahwatukee
South Mountain Freeway: Two-way traffic returning to Liberty Lane in Ahwatukee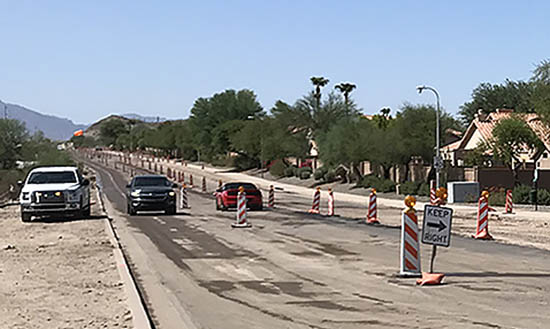 By Dustin Krugel / ADOT Communications
Good news for Ahwatukee motorists!
Two-way traffic is being restored in stages along Liberty Lane, an Ahwatukee roadway providing access to schools, churches and more that runs parallel to Pecos Road, where the Loop 202 South Mountain Freeway is being built.
Liberty Lane had been restricted to eastbound traffic only on a stretch of about 1.3 miles between Desert Foothills Parkway and 20th Way since work began in March to relocate a 4-foot-diameter city of Phoenix waterline from the freeway right of way.
This past weekend crews restored two-way traffic between 12th Street and west of 18th Way. That's much of the area that had been restricted to one direction of traffic.
Crews have now set a full closure of Liberty Lane between 18th Way and 20th Way as the next phase of work includes completing the waterline connection with a city of Phoenix water main. The closure is expected to remain in place through early October, and local motorists should consider Pecos Road as an alternate route in the interim.
Crews are working six days a week to install the final segment of pipe between Desert Foothills Parkway and 12th Street, but work has been especially challenging due to hardness of rock and a large concentration of underground utilities that must be avoided in the area.
The remainder of Liberty Lane, from 12th Street west to Desert Foothills Parkway, is scheduled to return to two-way traffic by the end of the year. Final resurfacing and lane striping is also scheduled to be completed early next year, along with replacement of sidewalks, curbs and gutters.