Spring forward? Not if you buckle up
Spring forward? Not if you buckle up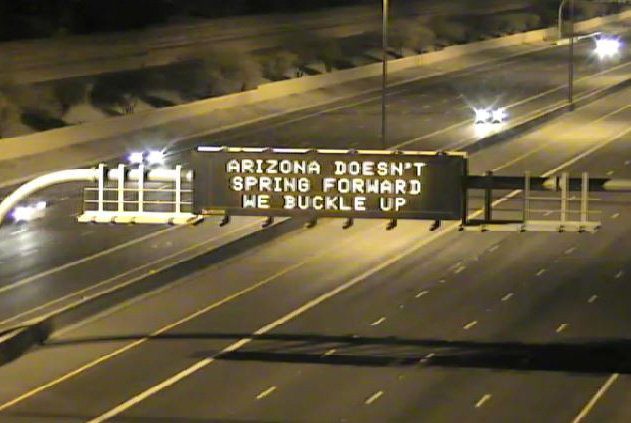 By Doug Pacey / ADOT Communications
ADOT recently revealed the 20 finalists in our Safety Message Contest. We'll announce the winners in April, but one contest entry is being displayed on our Dynamic Message Signs this weekend before voting wraps up on Wednesday, March 15.
Huh?
Blame daylight saving time.
At 2 a.m. Sunday, March 12, billions of people worldwide will spring forward, setting their clocks ahead one hour. Meanwhile, Arizona doesn't observe daylight saving time, and Phoenix resident Chris Ambiel conjured up a clever message that combined the twice-annual clock-changing event and seat belts.
ARIZONA DOESN'T
SPRING FORWARD
WE BUCKLE UP
Instantly, we loved the message. Often, our safety messages are related to holidays or current events, like popular concerts, blockbuster movie premieres and sporting events. Ambiel's message makes that connection too, tying something everyone is familiar with, like daylight saving time, with a safety element. Did you know that about 30 percent of all people killed on Arizona's roads each year weren't wearing seat belts? In 2015, that equaled 258 unnecessary fatalities.
"I came up with this message because I was trying to show some humor and the importance of wearing seat belts," Ambiel said. "It just came to mind, being that we don't turn back the clocks in Arizona or forward them for daylight saving time."
Because contest winners will be displayed on overhead signs in April and daylight saving time occurs in March, we chose to run Ambiel's message when it is most relevant. We're looking forward to seeing what two finalists will be picked.