SR 260 bridge rehabilitation project update
SR 260 bridge rehabilitation project update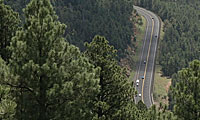 We've blogged about some pretty massive projects lately…
From the Loop 303/I-10 interchange and the Loop 101 widening project to the US 89 landslide repair, there have been quite a few major construction updates to tell you about.
While we know that big projects can mean big impacts, we're also aware that smaller construction projects can have an effect on drivers, too.
That's why we want to provide an update on the SR 260 bridge rehabilitation project (not to be confused with the SR 260/Doubtful Canyon widening project OR the SR 260 project through Little Green Valley – those are two totally separate projects).
The project we're referring to today got started in April and is centered on a 10-mile stretch of SR 260, about 17 miles east of Payson.
The $2.9 million project includes reconstructing the existing bridge approaches of eight structures on the eastbound and westbound roadways. Work also includes milling and replacing the existing pavement at the bridge approaches, guardrail reconstruction and the replacement of existing pavement markings.
Currently, the eastbound lanes are closed at the Tonto Creek Bridge (mileposts 267-268) near Kohl's Ranch Road through the Christopher Creek Campground (mileposts 272-277) and all traffic has been shifted to the westbound lanes. Right now, crews are working on five of the bridges on the eastbound side.
The project will shut down for winter at the end of this month (the work must be done in warmer temperatures for ideal compaction and materials establishment).
Restrictions will be lifted during the break and the road will be fully open with two lanes in each direction by the end of this month (good news!).
Crews will be coming back in the spring to complete work for the three bridges on the westbound side. When construction resumes in the spring, westbound lanes will be closed and traffic will be shifted to the eastbound lanes, but this time around the closure will only impact a three-mile stretch.
What drivers should know
This project is intended to create smooth transitions between the highway and bridge approaches/departures through this corridor. Once complete (by summer 2015), the project will give drivers a much smoother ride.
Please note that the work zone is clearly marked by temporary barricades and signage. ADOT advises drivers to proceed through the work zone with caution, to comply with the reduced speed limit and to be alert for construction equipment and personnel. Know that delays are possible and allow extra travel time to reach your destination.
For more information, email [email protected] or call the ADOT Project Hotline at 855-712-8530.