SR 260 improvements under way
SR 260 improvements under way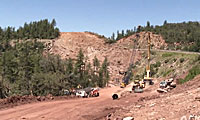 ADOT started construction earlier this year on the project that's aimed at improving SR 260 between mileposts 269 and 272, just west of the Christopher Creek Campground. This portion is known as the Doubtful Canyon section and sits roughly 20 miles east of Payson.
The plan is to reconstruct the existing two-lane undivided roadway into a four-lane divided highway. As we showed yesterday, work is well under way.
Once construction is finished, additional improvements will include:
Six concrete bridges
Improved drainage
Additional fencing to protect elk and other wildlife
Rubberized asphalt pavement to minimize noise and create a smoother ride for motorists
New signage, striping and guardrails
The Doubtful Canyon project is scheduled for completion in fall 2012 and is part of a larger effort to widen the highway from Star Valley all the way to the Mogollon Rim. Three other sections of SR 260 have already been widened. The Little Green Valley segment is under construction now and should be finished this fall.  
Travelers may have noticed some traffic restrictions in this area. These are necessary to complete this project, but ADOT makes every effort to lessen the impact.
"There are times when there's going to be traffic delays and as ADOT we understand that and we try to minimize delay times," says ADOT Senior Resident Engineer Tom Goodman in the video above. "But safety is really our biggest concern on any construction project … so we just ask that motorists be considerate of the work we have out here and obey the reduced speed limits and be patient. It will be all done and then it will be a nice highway to drive on."
For more information, check out the SR 260 Doubtful Canyon widening project Web page.