After 55 years, an I-10 bridge in Tucson makes way for a successor
After 55 years, an I-10 bridge in Tucson makes way for a successor
By Garin Groff / ADOT Communications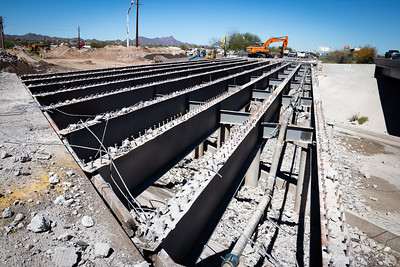 Since an eastbound Interstate 10 bridge started carrying traffic over Ruthrauff Road in 1965, the number of vehicles that have traveled this northwestern Tucson locale is impossible to calculate.
But once crews began demolishing the structure this week, we can count exactly how much time it took to reduce the bridge's surface into concrete rubble and twisted rebar: two days.
This Flickr album of the demolition work shows the rapid progress we're making to rebuild I-10/Ruthrauff Road interchange only two months after starting the $129 million project.
As for the remaining parts of the bridge, they'll also be history by the end of the week.
If you're wondering how I-10 traffic can keep flowing with one of two bridges now gone at Ruthrauff Road, here's the solution ADOT's project team has in place: Westbound I-10 traffic is now getting through the work zone on the westbound frontage road, while eastbound I-10 traffic has been shifted to the old westbound lanes.
Some temporary sections of pavement allow three lanes of traffic to flow in each direction. And we're maintaining access to all businesses with other temporary changes to the frontage roads.
The demolition work is just one of many dramatic changes drivers will see until the I-10/Ruthrauff Road project is completed in late 2021. Stay tuned for more photos and other updates.